Today's coverage:
X-T2 announcement – X-T1 vs X-T2 – X-T2 sample images
EF-X500 flash – 2016 lens roadmap – X-Pro2 firmware update
At the same time that the new X-T2, EF-X500 flash and the upcoming X-Pro2 firmware update were announced, Fujifilm also revealed three new lenses on their official roadmap.
The 23mm f/2 R WR will be smaller than the previous 23mm and, according to the name, will feature weather resistance. The same can be said for the 50mm f/2 R WR. The 80mm f/2.8 R LM OIS WR will be a mid-telephoto 1:1 macro lens that is compatible with both the 1.4x and 2.0x teleconverters. As the name suggests, it will feature built-in optical stabilisation and weather resistance.
The 23mm is due to arrive this year, while it is unlikely we'll see the 50mm and 80mm before 2017. The addition of these lenses will expand the X series line-up to a total of 25 native lenses.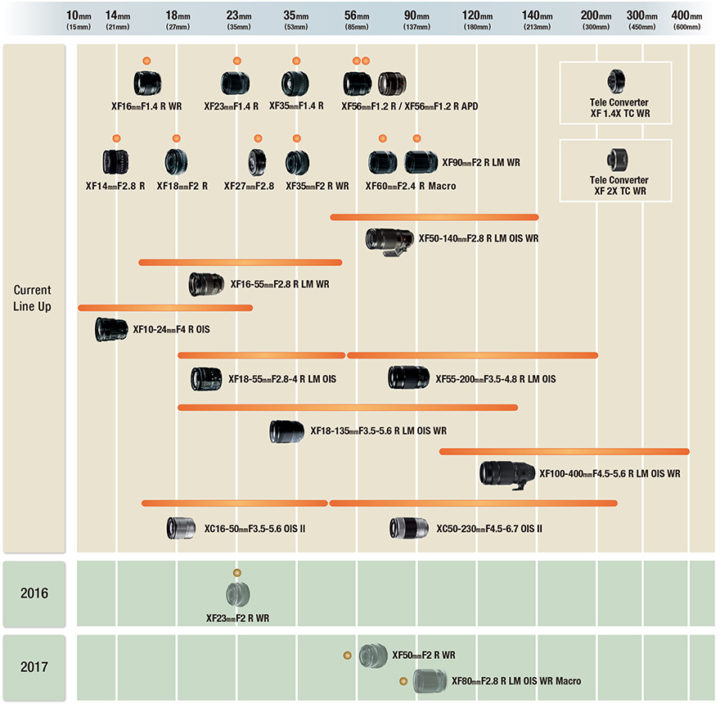 X-T2 announcement – X-T1 vs X-T2 – X-T2 sample images
EF-X500 flash – 2016 lens roadmap – X-Pro2 firmware update