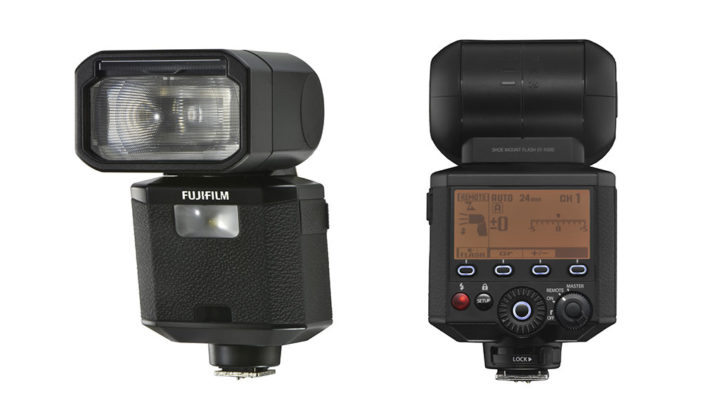 Today's coverage:
X-T2 announcement – X-T1 vs X-T2 – X-T2 sample images
EF-X500 flash – 2016 lens roadmap – X-Pro2 firmware update
Back in January, Fujifilm announced a new powerful flash unit for the X-series cameras. Now we have another official press release and we know it will be released in September 2016 for $450.
The new flash should be a big step forward for the company which up until now had been criticised for not providing an advanced flash solution for its cameras. The EF-X500 will have a guide number of 50 (ISO 100) and cover focal lengths from 24 to 105mm (35mm format equivalent). It will feature High Speed synchronisation (FP mode) allowing you to use it even at 1/8000s.
There will be a TTL Auto function that will also work in wireless mode and let you use multiple flashes at the same time from different positions. Multiple flashes will be controlled in up to three groups and four channels, each of which can be set with different light output. The light output can be adjusted from the camera directly. It will support both master and slave modes.
The body is robust and weather sealed to match the same weather resistance of the X-Pro2 and X-T2. The flash head can be tilted up 90 degrees, down 10 degrees, 135 degrees to the left and 180 degrees to the right. It includes a reflector panel and a diffuser as well as a mini-stand. On the rear there are a several buttons and an LCD panel for complete control. Finally, it will have a LED light on the front that can be used for video and AF assist. The flash can register up to ten combinations of various settings.
The EF-X500 will be compatible with the X-T1, X-T2 and X-Pro2. Below you can see different product images and two official photographs taken with the new flash from the press material.
Today's coverage:
X-T2 announcement – X-T1 vs X-T2 – X-T2 sample images
EF-X500 flash – 2016 lens roadmap – X-Pro2 firmware update