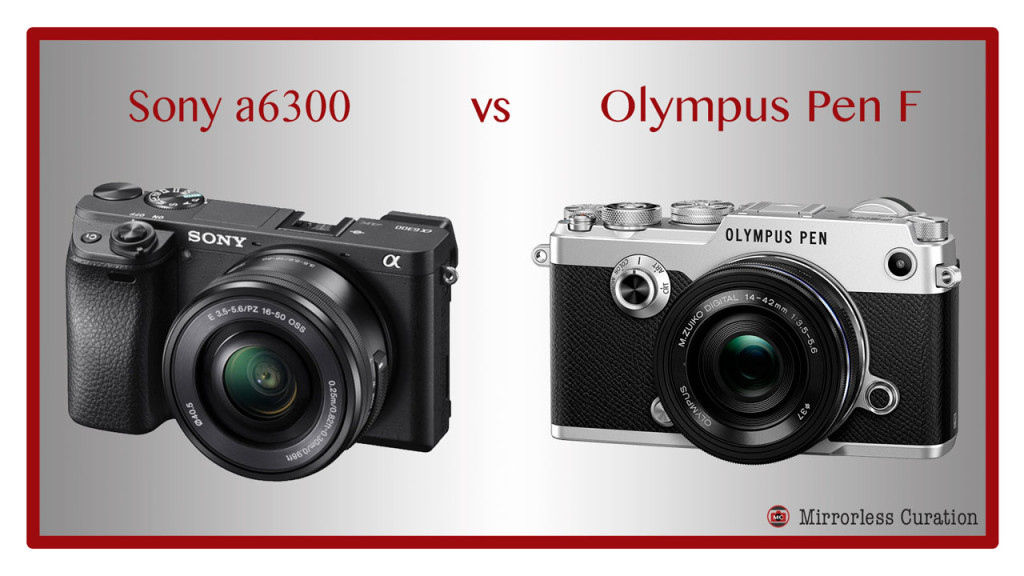 Today we are talking about two exciting mirrorless interchangeable lens cameras that were announced during the first quarter of 2016.
The Sony a6300 is the successor to the much-loved a6000 and incorporates much of the latest technology Sony has to offer. Its competitor is the Olympus Pen F, the latest model in the Pen line-up that targets a more mature audience than any of its predecessors.
With that said, let's take a look at how these two models compare!
---
Ethics statement: The following is based upon official specifications and our personal experience with Sony and Olympus cameras. We were not asked to write anything about these cameras, nor were we provided with any sort of compensation. Within the article, there are affiliate links. If you decided to buy something after clicking the link, we will receive a small commission. To know more about our ethics, you can visit our full disclosure page. Thank you!
---
Design and ergonomics
a6300: 120 (W) x 66.9 (H) x 48.8 (D) mm, 404g
Pen F: 124.8 (W) x 72.1 (H) x 37.3 (D) mm, 427g
The a6300 is slightly smaller and lighter than the Pen F and also has a more prominent grip on the front. You can purchase an optional grip (the ECG-4 L plate) for the Pen F to improve handling.
The Pen F has a vintage look, inspired by the original film camera, while the a6300 has a more modern appearance that recalls the rest of the APS-C Alpha line-up. The a6300 is available in black while the Pen can be found in black or black/silver.
The a6300 has a robust dust and moisture resistant magnesium alloy body but is not completely weather-sealed. The Pen F, on the other hand, isn't weather resistant at all. It has an magnesium/aluminium body (including the dials) and no visible screws on any side of the camera.
Ease of use
The Pen F has many external dials, much like a film camera. There is a unique Creative dial on the front of the camera that allows you to switch between different colour and effects profiles. It also has an exposure compensation dial on top and a threaded shutter release button that can host a soft release button. The On/Off switch is also another nice "vintage" detail of the camera.
The a6300 is more minimalistic, lacking the many dials of the Pen F. It is limited to a mode dial, exposure dial and On/Off switch on top. The shutter release button is not threaded.
The Pen F has 4 custom buttons and the D-pad on the rear can also be customised. There are 4 custom settings accessible from the Mode dial on top. The a6300 has 9 customisable buttons across the body. There are two custom settings (Memory Recall 1 and 2) on the Mode dial.
a6300: 2.4M dots OLED EVF (0.70x, 100% FoV)
Pen F: 2.36M dots LCD EVF (0.62x, 100% FoV)
Both cameras feature a built-in EVF on the left side of the body with a similar resolution but different magnification. They both have a high frame rate mode that goes up to 120fps (but it drains more battery life). The Pen F has a mode called S-OVF, which expands the Live View dynamic range, while the a6300 has Live-View continuous shooting up to 8 fps with very little lag in the EVF. This simulates the immediacy of shooting with an OVF.
a6300: Tilting, 921K dots, No touch sensitivity LCD
Pen F: Multi-Angle, 1037K dots, Touch Sensitive LCD
The Pen F rear monitor can be flipped to the side and rotated, a solution that will satisfy video users. The screen is also touch sensitive: you can change your focus point, take a shot or use the monitor as a virtual AF pad while framing with the EVF. The a6300's LCD tilts up and down but lacks touch capabilities.
Both cameras include a hot-shoe mount on top. The a6300 has the benefit of a built-in flash and the max sync is 1/160s. The Pen F lacks a built-in flash but is supplied with a small external unit (FL-LM3). The fastest speed sync is 1/250s but it can also go as fast as 1/8000s in Super FP mode with compatible flashguns.
Image quality
a6300: 24MP APS-C sensor
Pen F: 20MP micro four thirds sensor
Of the two cameras, the a6300 has the larger sensor with more resolution. It works in tandem with the BIONZ X processor to produce high resolution images with low noise. It also shoots 14-bit RAW output.
The Pen F has the highest resolution of any Micro Four Thirds camera (except for the Lumix GX8 which also has a 20MP sensor) and utilises the TruePic VII image processor. It has a special feature called High Res Shot that combines eight images in-camera to produce 80MP (RAW) and 50MP (JPG) files but it only works on static subjects.
a6300: ISO 100-25600, expandable to 51200
Pen F: ISO 200-25600, pull 100, 80
The a6300 has a vaster ISO range thanks to its lowest native ISO value of 100 and expandable ISO value of 51200. The Pen F has a pull 80 and 100 option but only goes up to 25600. The a6300 also has a Multi-Frame NR function where the camera takes three pictures in a row and merges them together to reduce the amount of noise. It works with static subjects and in JPG mode only.
Both cameras have a number of colour profiles and art filters. The Pen F also has two unique Profile creators (one for colour and one for monochrome) that can be accessed via the Creative dial on the front. They allow the user to vary the saturation of 12 individual colours, choose from 8 black and white filters and also apply some film grain.
Autofocus and performance
a6300: 425 phase detection AF points, 169 contrast detection points
Pen F: 81 contrast detection points
The a6300 has an advanced hybrid autofocus system with 425 phase detection points (the highest number ever seen) and 169 contrast detection points that cover almost the entire frame. You have the option of: Zone / Center / Flexible Spot (S/M/L) /Expanded Flexible Spot/ Lock-on AF.  It has a new High Density tracking AF that increases the density of the AF points in the area around the moving subject to track it more accurately. On paper it is one of the most advanced autofocus systems seem on a mirrorless camera to date and with the right adapter (LA-EA3), it works with Sony's A-mount lens line-up as well.
The Pen F has a contrast detection AF system. You have the option of: All target, Group target (9‑areas), Single target (normal), and Single target (small). It also had an AF-Tracking mode to lock onto a subject and track it through the frame.
a6300: 11fps in S-AF/C-AF
Pen F: 10fps in S-AF, 5fps in C-AF
Both cameras are very fast but the a6300 has the advantage thanks to its Super-H 11fps burst shooting in C-AF. You can also shoot at 8fps (H), 6fps (M) and 3fps (L). The Pen F can shoot up to 10fps (H) and 5fps (L).
a6300: 30s to 1/4000s, electronic shutter, Bulb
Pen F: 60s to 1/8000s, up to 1/16000s (electronic shutter), Live Composite, Live Time, Bulb
While the a6300 can shoot between 30s and 1/4000s, the Pen F is capable of 60s to 1/8000, and as fast as 1/16000 with the electronic shutter. Both come with a first curtain electronic shutter to reduce shutter shock at critical shutter speeds and a silent shutter. Additionally, the Pen F has inherited a couple of features that facilitate long exposure work – namely, Live Composite (for star trails and light painting) and Live Time (to see a preview of your long exposure on the screen).
a6300: No in-body stabilisation
Pen F: 5-axis sensor shift
The Pen F features the best in-body image stabilisation system on the market (5-axis, 5 Ev of compensation like the E-M5 mark II). This is interesting because with the Pen F you can have stabilisation with any kind of lens including adapted ones. The a6300 doesn't have in body stabilisation, so it relies on the optical stabilisation of the lenses.
Video
a6300: 4K, Full HD up to 120 fps
Pen F: Full HD up to 60fps, All-Intra codec (72mbps)
The a6300 can record 4K video in Super 35mm format with full pixel readout and no pixel binning. It can also record in Full HD up to 120fps, and incorporates S-Log gamma recording, S-Gamut, Gamma Display Assist, and enhanced Zebra functionality. It comes with a microphone line input for external recording. The hybrid autofocus has been designed to deliver good results in movie mode as well.
The Pen F can shoot Full HD up to 30fps with the All-Intra codec (72mbps) or up to 60fps with the Super Fine quality. You also have the option to record short movie clips (4s) and rearrange them after to create an in-camera edited videoclip. There is no microphone input. The 5-axis stabilization also works for video with two modes available (M-IS1:hardware+software and M-IS2: software).
Both are capable of recording time-lapse videos. The Pen F can save a video file up to 4K but with limited frame rate (5fps) while the Sony's time-lapse function must be downloaded from the PlayMemories app store at a small fee.
Other features
The Pen F has 6 bracketing modes including Exposure (up to 7 frames, 1Ev step) and Focus Bracketing (up to 999 shots). The camera can also take multiple exposures (up to 3 shots) and has a Photo Story mode that allows you to combine 3 shots together in different frames.
The a6300 has 3 bracketing modes including flash and white balance. The AE bracketing goes up to 5 frames with 3.0 EV increments and up to 9 frames with 1.0 EV increments. Like the time-lapse function, you must download the multiple exposure function from the Sony PlayMemories app store.
Both cameras have WiFi capabilities but the a6300 has the added bonus of NFC connectivity.
Finally, on one battery charge, the a6300 can fire off about 350 shots whereas the Pen F can manage around 330 shots (according to the official specs).
---
Other articles like this one:
---
Conclusion
Of course only a complete comparison with side-by-side sample images can give you a complete idea of what these two cameras have to offer, especially considering that they both have a new sensor.
Though they share a rangefinder body with the EVF on the left, there are many differences concerning the sensor size, overall design, the AF system, stabilisation, video quality, and more. Whether you choose one or the other will ultimately depend on the features you prioritise in a camera and the styling you prefer.
Finally there is the price. It is expected that, in the US, the a6300 will sell for around $1000, €1250 (body only) while the Pen F will go for around $1,200, €1200 (body only).
Check price of the a6300 on B&H Photo
Check price of the Pen F on B&H Photo
Below you can find interesting hands-on articles and reviews about the two cameras: