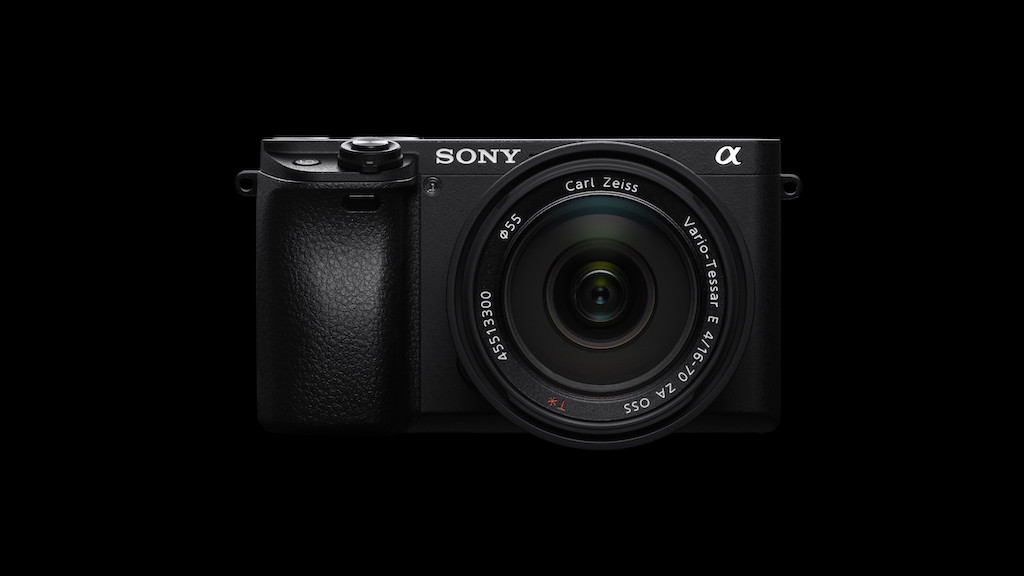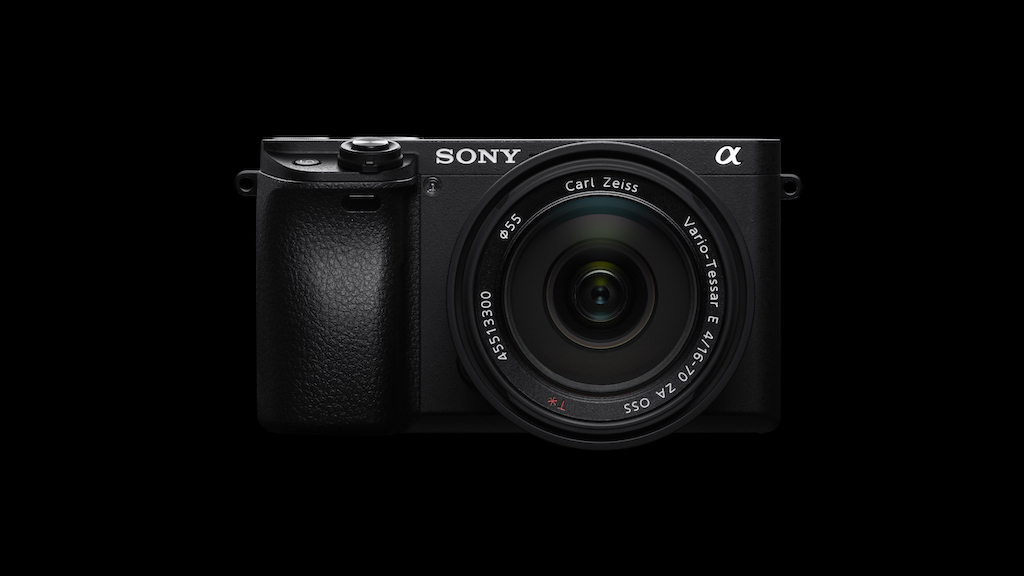 When Sony held a press event in New York in early February 2016, many were expecting that the company would finally release a new range of E-mount lenses designed specifically for the APS-C sensor to accompany the new APS-C flagship camera, the a6300.
While Sony did unveil three new lenses for the E-mount – the G Master 24-70mm f/2.8 and 70-200mm f/2.8 professional zooms and 85mm f/1.4 portrait lens – their size and weight make them infinitely more appropriate for the full-frame range of Sony cameras than the APS-C range.
So, where does this leave potential Sony a6300 users? It seems that they will have to live with the same gamut of lenses that APS-C users have used over the past few years, at least for the time being.
Below you can find a list of what we feel are the best Sony a6300 lenses as of early 2016. The list is based both on our own experience and the recommendations of photographers who use Sony cameras. Of course, these recommendations may apply not only to the new a6300 but to any camera in Sony's APS-C line-up. Keep in mind that larger lenses can be more uncomfortable to use on small cameras like the a5000.
Note: Though there is a plethora of manual focus options available, I've limited this list to autofocus lenses designed specifically for the system. Since the a6300 has one of the most advanced autofocus systems of any mirrorless camera to date, I feel that it only makes sense to build a lens collection that can take full advantage of these capabilities.
---
Ethics statement: The following list is based upon our experience with E-mount lenses. We were not asked to write anything about these lenses, nor were we provided any compensation of any kind. All opinions we express are our own. Within the article, there are affiliate links. If you buy something after clicking the link, we will receive a small commission. To know more about our ethics, you can visit our full disclosure page. Thank you!
---
The best zooms for a6300
Let me start by saying that zooms aren't exactly Sony's forte. As of 2016, there are twelve different autofocus zooms for the APS-C system but the majority tend to be characterised by slow apertures, mediocre optical quality and high prices.
Most Sony users will agree that either the 16-50mm f/3.5-5.6 (B&H Photo) or 18-55mm f/3.5-5.6 (B&H Photo) is a good place to start if you are on a tight budget. Both are standard kit lenses and tend to come with the camera anyway depending on the kit you buy. The former is a power zoom that collapses down to the size of a pancake lens while the latter is a little larger and must be zoomed by hand. Neither produce outstanding optical quality but they have the benefit of optical stabilisation (OSS) which will prove useful on the non-stabilised a6300 body.
Those with a larger budget may be interested in the Vario-Tessar 16-70mm f/4 ZA (B&H Photo), the only lightweight, compact standard zoom with a constant f/4 aperture. Produced in collaboration with Zeiss, it is certainly the most appealing option in terms of pure optical performance but it is also quite expensive. It too has the benefit of optical stabilisation.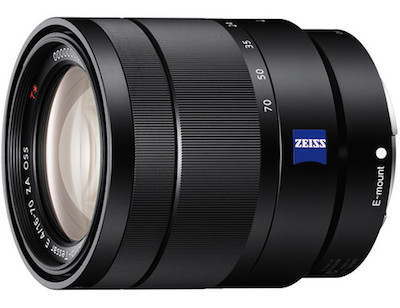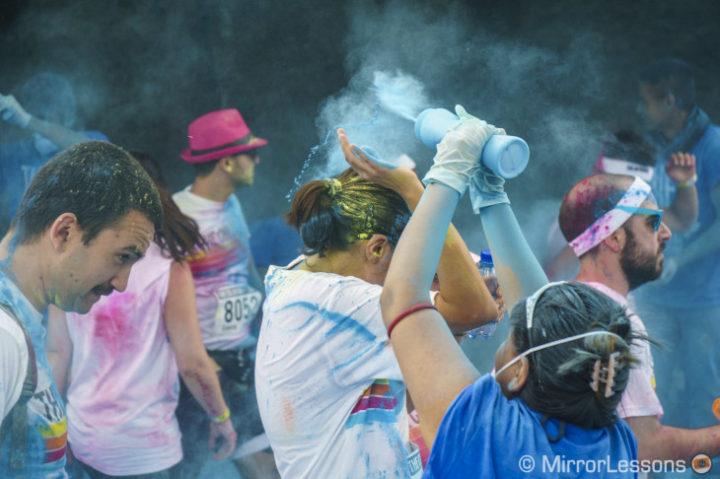 For more reach, you have four main options: the Sony 18-105mm f/4 OSS, Sony 18-200mm f/3.5-6.3 OSS (three different versions), Sony 55-210mm f/4.5-6.3 OSS or the Tamron 18-200mm f/3.5-6.3.
Of the four, the 55-210mm (B&H Photo) gives you the most reach and is by far the least expensive. Plus, if you already own one of the standard kit lenses, it completes the missing mid-to-telephoto range.
If, however, you are looking for one all-purpose zoom so you don't have to change lenses on a regular basis, the 18-105mm (B&H Photo) with its constant f/4 aperture, is your best bet. It may not have the reach of the four 18-200mm lenses but it is better in low light and with the 2x digital zoom function of the a6300, you can take a very usable 200mm crop because of its 24MP sensor. The zoom mechanism is internal so the lens doesn't extend when you zoom in.
If you want a telephoto lens with superior performance, the best option is the FE 70-200mm f/4 (B&H Photo). It is designed for the full frame system and is more expensive but its size and weight are still a good enough match for the a6000 or a6300 body.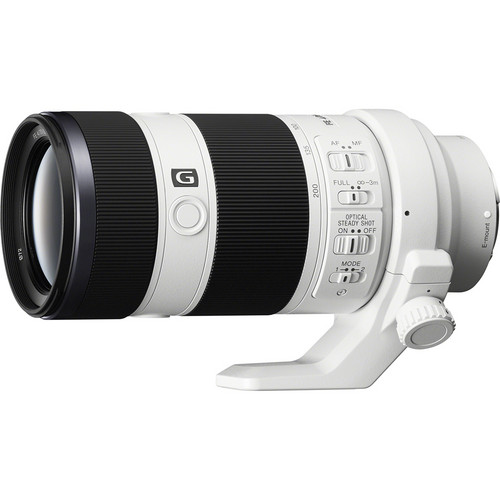 Finally, there is only one wide-angle zoom option for Sony, and that is the 10-18mm f/4 (B&H Photo). Although it is quite expensive, it has a good reputation for sharpness at the wider angles / medium aperture settings and incorporates effective optical stabilisation.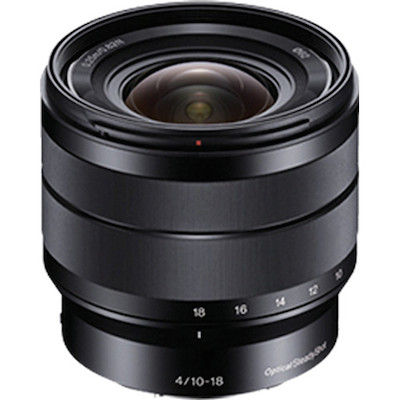 Even though I appreciate the convenience and versatility of zoom lenses, I would much sooner use prime lenses on the Sony a6300 because there is a wider range of optically superior products. Let's take a look at some of them now…
---
The best primes for a6300
Now that we're onto the topic of prime lenses, things get a little more interesting. There are six in the Sony E-mount catalog, plus three from Sigma and three from Zeiss, making for a total of 12 primes. Admittedly, only a small handful do full justice to the state-of-the-art sensor of the a6300, but most of the options listed here are good enough to get the job done.
For portraits
The one lens that every serious Sony portrait shooter should own is the FE 55mm f/1.8 (B&H Photo), a stunningly sharp prime with a fast aperture and a bokeh to die for. Although it has been designed for the full-frame series, it is small enough to fit an a6300 quite nicely and with the crop factor, it gives you an angle of view close to 85mm, the perfect focal length for shooting portraits. It also supports phase-detect autofocus, so you can use the lens for sports photography if the action isn't too far away. The only caveat is the lack of optical stabilisation, which could prove problematic in low light with the a6300. It is also one of the pricier lenses mentioned in this article.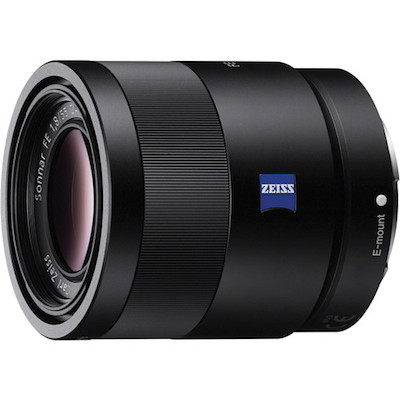 If price is an issue, there are two other very good possibilities, one being the native 50mm f/1.8 (B&H Photo) and the other, the Sigma 60mm f/2.8 Art (B&H Photo). Both are on the wide end of the portrait spectrum but are lighter and more compact than the 55mm, and certainly cheaper. The Sigma in particular has received excellent reviews for its overall sharpness, bokeh, control of flare and vignetting.
For landscapes
Landscape shooters may want to go one of two routes with the Sony APS-C system. On one hand, they could choose the 10-18mm (B&H Photo) mentioned in the zoom section and cover all the necessary focal lengths with one lens. Or, they could choose two excellent primes, the Zeiss Touit 12mm f/2.8 (B&H Photo) and the Sigma 19mm f/2.8 (B&H Photo).
Bearer of the Zeiss name, there is very little you can say against the Touit 12mm f/2.8 (B&H Photo). It is sharp through the aperture range, has a close focusing distance of 18cm and a lovely bokeh for a wide angle lens. It is missing a distance scale but has a large focus ring and a quick and silent internal focusing mechanism to compensate. Even the cost has come down substantially since it was first released. The only point that could drive potential a6300 users away is the lack of optical stabilisation, which would be handy for indoors and night-time shooting.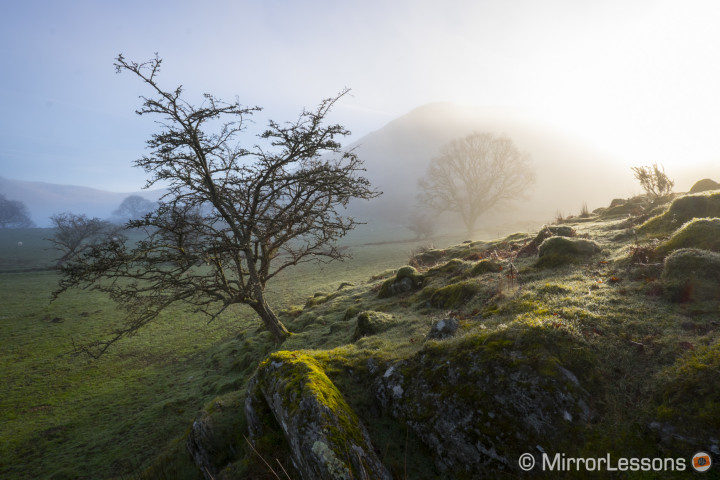 The Sigma 19mm f/2.8 (B&H Photo) is far cheaper than the Zeiss and offers a narrower angle of view. It too lacks optical stabilisation but its sharpness, bokeh and overall rendering are far better than its price would suggest.
It should be added that both lenses accept ND filters for long exposure shooting.
For street
When it comes to street photography, your ideal focal length will depend on just how close you're willing to get to your subject. Some are confident with the 28mm field of view (35mm format equivalent) whereas others prefer the longer focal length a 35mm or 50mm field of view would provide.
If you are keen on something close to the 50mm field of view, there are three possible options: the native Sony 35mm f/1.8 (B&H Photo), Zeiss Touit 32mm f/1.8 (B&H Photo) and the Sigma 30mm f/2.8 DN (B&H Photo). All three have a good reputation, but the Touit, being a Zeiss lens, is certainly the best performer in terms of sharpness and rendering. It also supports phase detection autofocus and the fast hybrid autofocus of newer Sony E-mount cameras thanks to firmware update 2.0. Although it is still the most expensive of the three, it has greatly come down in price since its release.
The Sony 35mm f/1.8 (B&H Photo) also works with the hybrid AF of Sony cameras and has the benefit of optical stabilisation but it is optically inferior to the Touit. In terms of pure value for money, the Sigma 30mm (B&H Photo) is probably the best deal of the three. PDAF autofocusing is limited to the centre of the frame on the a6000/a6300 but it is very sharp and compact with limited chromatic aberration and distortion and a competitive price tag to boot.
Those looking for something a little wider may be interested in the Sigma 19mm (the 28.5mm equivalent mentioned in the landscape section) or the Sony Zeiss 24mm f/1.8 ZA (B&H Photo). The latter is expensive, as it was produced in collaboration with Zeiss, but it is a solid performer not only for street but also for general photography purposes thanks to its 36mm field of view.
For macro
For macro photography, the Sony 30mm f/3.5 macro (B&H Photo) is a good place to begin. Not only is it small and inexpensive but it also offers 1:1 magnification and can also be used as an all-purpose / street lens. Of course, being a 30mm lens with a minimum focusing distance of 9.5cm, it requires you to get very close to your subject. As such, it isn't ideal for skittish subjects like insects. The lack of a distance scale and focus limiter switch may also put some people off.
The only serious macro option for E-mount users is the recent Sony 90mm f/2.8 macro (B&H Photo) for the full-frame system. It is very large compared to the a6300 body but no larger than some manual focus offerings from Tamron or Sigma, and has the added bonus of PDAF autofocus compatibility, a focus limiter switch, distance scale and OSS. Since it gives you an equivalent 135mm field of view, it also allows you to keep a good distance from your subject. Once again, the only downside is the rather prohibitive price.
(Note: There is also the optically-excellent Touit Planar 50mm f/2.8 macro lens (B&H Photo) but it costs about the same as the 90mm and lacks a focus limiter switch, distance scale and OSS.)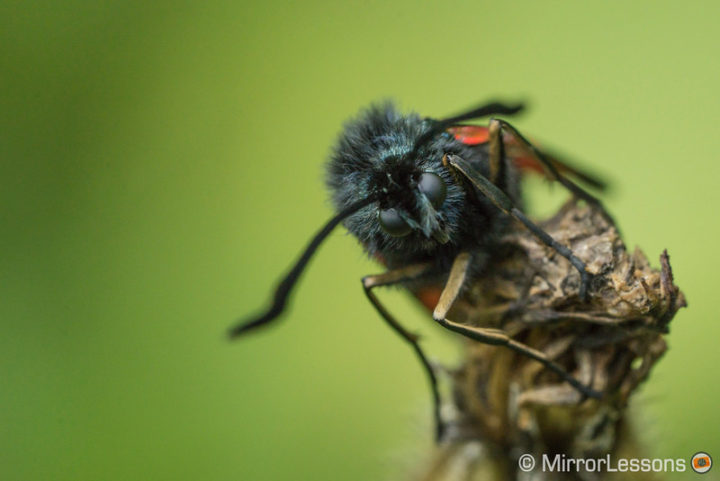 Finally, I cannot go without mentioning the excellent Raynox DCR-250 macro adapter (B&H Photo). For less than $100, it can turn almost any lens into a macro lens as long as it is has a focal length of at least 50mm, which would be around 34mm on an APS-C camera like the a6300. If you use a shorter focal length, you will encounter some strong vignetting caused by the adapter. I've used it on the Sony 55mm f/1.8 many times and loved the results.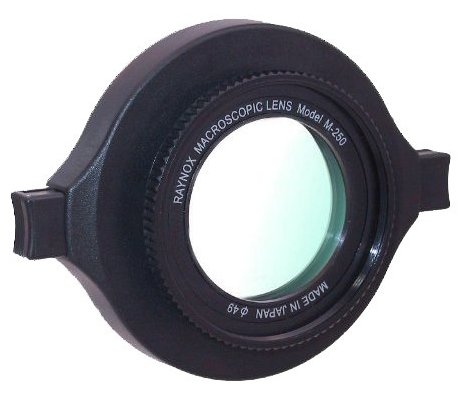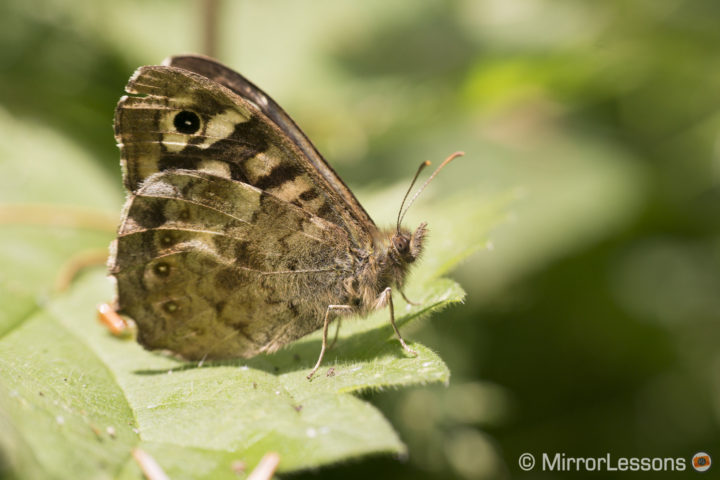 ---
For more helpful information about E-mount lenses, I also encourage you to visit the following blog posts written by three users of the system.