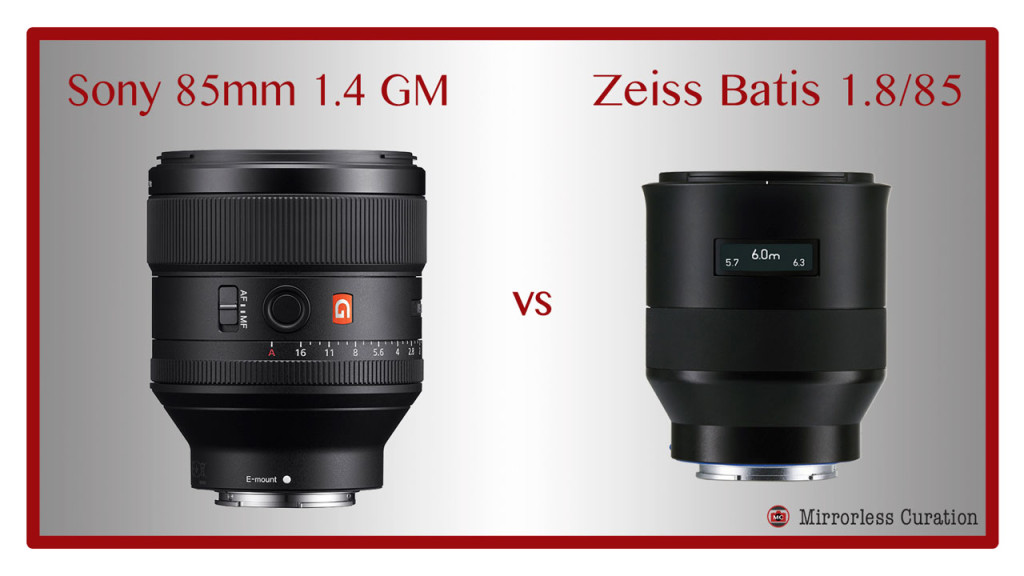 Update: this article now includes our in-depth video comparison of these two portrait lenses!
The recent announcement of the three new Sony G Master lenses is a sign not only that Sony is ready to emerge as a serious photography brand but also that it is intent on fulfilling the needs of its user base. With every new product, Sony makes a point to address an issue or specific request that had been raised.
We know that there are still many improvements to be made but as always, I like to remind people that this is a very young system. It needs time to grow just like every other camera system. Indeed, my only small concern at the moment is the need for more affordable lenses so that Sony doesn't lose its non-professional user base.
The two new 2.8 constant aperture zooms and the 85mm f/1.4 fill an important gap in the system because they are among the most popular focal ranges in the professional sphere for a variety of genres. They also give professional photographers a good reason to take the FE system more seriously. I can't count how many times I've read or heard photographers say that they weren't interested in Sony FE cameras because there weren't any f/2.8 zoom lenses. In a way, there were right. The best-sellers for Nikon and Canon, for example, tend to be the 2.8 zooms and it is very common to find them inside a professional photographer's bag.
As for the new portrait lens, the reasoning is similar: pros want the f/1.4 aperture (and sometimes even f/1.2). The new 85mm f/1.4 GM arrives less than one year after the first portrait lens designed for the FE system, which was the Zeiss Batis 1.8/85.
As always with new products, people are starting to wonder which one is better and more importantly, if the higher price of the new Sony lens is justified.
Actually, since publishing our hands-on review and sample images taken with the FE 85mm f/1.4, our readers have already started asking us which of these the two lenses we'd personally recommend. Instead of responding to each individual email and comment with the same answer, we decided it would make more sense to write a dedicated post and make an in-depth comparison video.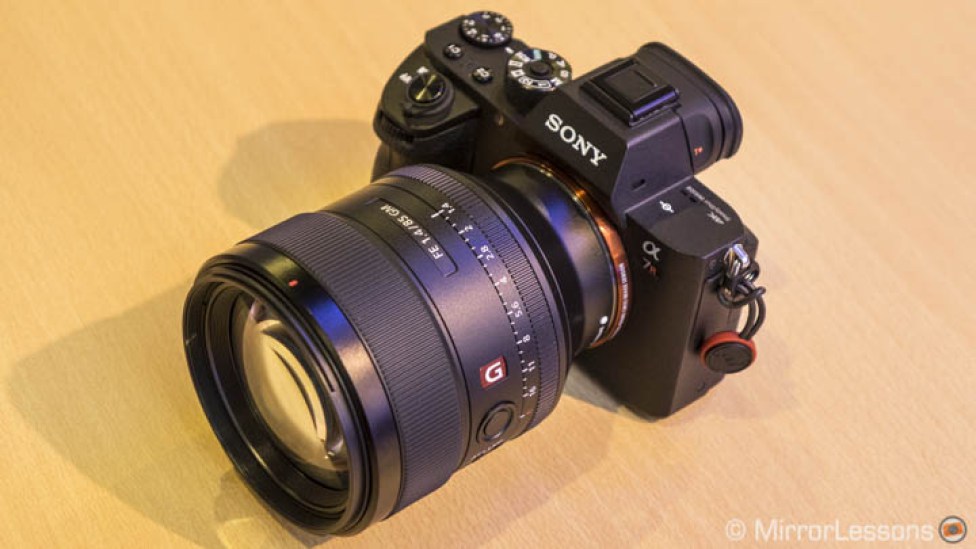 Sony FE 85mm f/1.4
Aperture range: f/1.4 – f/16
Focusing range: 0.80 m (2.6 ft) – ∞
Number of elements/groups: 11/8
Circular aperture blades: 11
Sony Nano AR Coating
Filter thread: 77mm
Dimensions: 89.5mm x 107.5 mm
Weight: 820 g
Price: $1800, €1800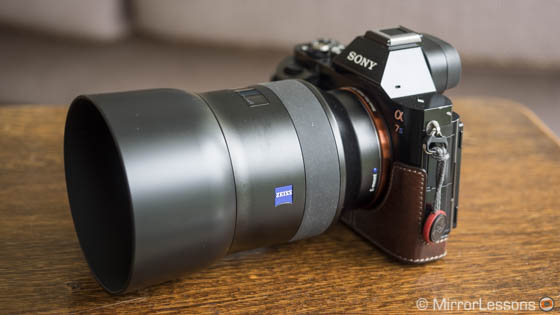 Zeiss Batis 85mm f/1.8
Aperture range: f/1.8 – f/22
Focusing range: 0.80 m (2.6 ft) – ∞
Number of elements/groups: 11/8
Circular aperture blades: 9
Zeiss T* Coating
Filter thread: 67mm
Dimensions: 81mm x 105mm
Weight: 475 g
Price: $1200, €1300
Let's start with the last two pieces of information in the specification chart above because, in the end, this is what will be the decisive factor for most people. The new Sony 85mm is almost double the weight of the Batis 85mm. It is the first thing I noticed right away during my time with it, and causes the combo to be somewhat front-heavy. I wouldn't say it is uncomfortable but it reminded me of how light the Batis 85 was when I tested it. The Sony lens is also fatter and slightly longer.
Then there is the price. A professional photographer who earns money by taking portraits on a daily basis will be able to accept such an investment more easily than a part-time portrait photographer or amateur/enthusiast. And let's not forget that the Batis lens has already been called expensive. On DSLR systems, the 85mm 1.8 is usually the affordable option, costing around $500/600 which is half the price of the Batis 85mm. With that said, let's see what you get for your money.
Both lenses have a nice build quality although the Sony lens feels more solid (perhaps the weight contributes to that feeling). The Batis has an advantage in terms of weather-sealing: it is splash and dust proof while the Sony lens is dust and moisture resistant. Both have a metal surface.
The Sony GM lens has a more complete user interface: you get an aperture ring that can be de-clicked (good for videomakers), a Focus Hold button and an AF/MF switch.
The Batis has a unique feature: an OLED screen to show the distance scale. It is an element I appreciated on the Batis 25mm for astro-photography. On the 85mm, I admit I found it less useful.
Both lenses have a focus ring covered with rubber but the Sony version is ribbed. As for the manual focus experience, I was surprised by how smooth and precise the ring on the Sony lens was. While I don't recall anything wrong with the Batis focus ring, the 85mm GM is more comfortable for manual focusing and video shooting.
Concerning the optical performance, I was impressed by the level of detail the Sony lens is able to capture at f/1.4. Sony insisted on the resolution capabilities of the GM series (0.01 micron) and the sets prepared to try the lenses were ideal for this purpose. (I don't think that choosing a male model with a beard was a random choice!)
However, the Batis is sharper at f/1.8. Granted, a f/1.4 lens is more difficult to design and the G Master gives great results wide open. Plus you can separate your subject from the background better especially at longer focus distances. With both lenses stopped down to f/2, the results are much more similar. The findings are the same at f/2.8. From f/4 the Sony lens start to appear slightly sharper and will maintain that advantage up to the smaller apertures.
The 85mm GM lens has a circular 11-blade aperture (versus 9 on the Batis lens). The Sony lens gives you a more uniform result with perfectly rounded bokeh circles.
The Zeiss lens has a different character and can please those looking for a little bit of a swirly effect. We can also see cat's eye shapes near the edges of the image.
Now I am not the kind of photographer who is obsessed with bokeh and I am already very pleased with the results from the Batis. I think the Sony lens could be worth the extra money if your work requires that extra clinical precision concerning not only the sharpness of your subject in the foreground but also what is out-of-focus in the background.
Of course there is the f/1.4 vs f/1.8 difference. In terms of exposure and depth of field, it is not big, but a f/1.4 lens usually requires more precision from the lens elements which is why it is more expensive. The Sony lens also separates better the subject from the background at a longer distance and producing a smooth transition from the out-of-focus to in-focus areas.
Concerning the autofocus, both lenses focus fast in single AF or when using the Eye-AF feature of Sony cameras. In continuous autofocus the G Master lens is slightly faster for stills and video on the A7r II. Interestingly, the Batis lens performed better on the a6300 for video.
Another difference between these two lenses is image stabilisation. The Sony 85mm doesn't have any while the Batis 85mm features optical stabilisation which makes the Zeiss lens a better choice for users who own a first generation A7 camera or an a6000 or a6300 camera.
---
When new products are announced and praised for their new advanced capabilities, we can always expect to see some differences but often, it is a matter of small details.
The new Sony 85mm f/1.4 is excellent in terms of sharpness and bokeh which is what Sony insisted on so much at the press event. It is a lens that has been designed for future high-resolution sensors and video.
The Batis 85mm is one of the best portrait lenses I've ever tested on a mirrorless system. Personally it is the one I would choose without a shade of a doubt. I am not a portrait photographer and don't shoot portraits every day for a living, so in my case, it would more than fulfill my needs. However if you seek ultimate optical performance, the Sony lens could be the answer. I actually wonder if it will become a new reference in the category, all systems included.
Previews of the FE 85mm f/1.4 GM
Reviews of the Batis 85mm f/1.8
---
Do you have any questions about these two 85mm primes? If so, feel free to drop us a line on Twitter!