If there's one characteristic of the Hasselblad X1D that has taken the camera world aback, it is the size of the body. At only 725 grams with the battery and dimensions of 150 x 98 x 71mm, it doesn't look at all out of place beside the flagship cameras from other brands.
Inspired by the recent comparisons on Petapixel, Sony Alpha Rumors and FujiRumors, we decided to see just how the Hasselblad compares in size to the largest mirrorless cameras available for each format: the A7r II from Sony (full-frame), the X-Pro2 from Fujifilm (APS-C) and the Lumix GH4 from Panasonic (MFT).
Note: We used Camera Size's excellent comparison tool to generate the correct dimensions.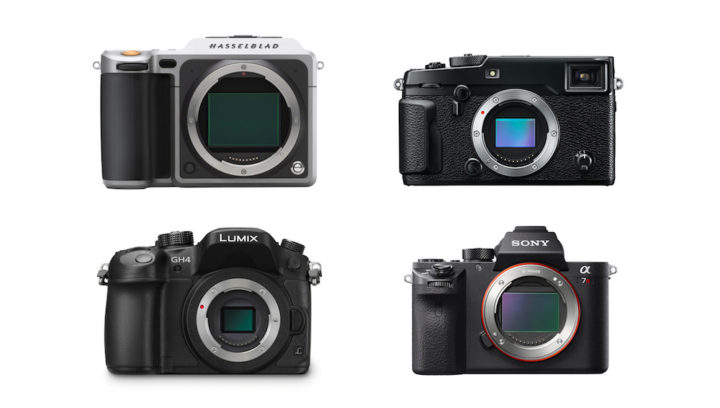 Although the full-frame, APS-C and MFT cameras compete within very different niches and have completely different price points to the X1D, it is interesting to observe that the Hasselblad, with its 50MP medium format sensor, isn't that much bigger than any of the cameras here. It is only in terms of weight that we see a relevant different: the Sony is 582g, the Fujifilm is 495g and the Panasonic is 560g, while the Hasselblad is 725g. Still, it is more than half the weight of a conventional medium format camera, which suggests that the market is definitely headed towards increasingly smaller bodies with larger sensors.
With rumours of a Fujifilm mirrorless medium format camera on the horizon, one can only wonder whether the brand will be able to achieve the same feat. Either way, I think we can safely say that Hasselblad has kicked off a new era for mirrorless technology and it won't take long for other brands to jump on board!
To find out more about the Hasselblad X1D, we invite you to read our news article and check out the following hands-on previews!