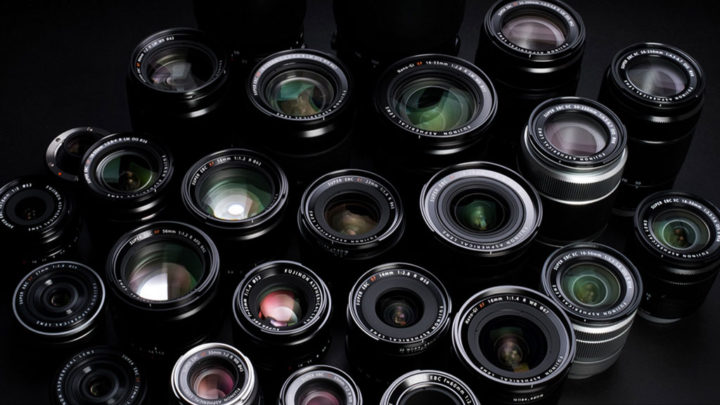 When the Fujifilm X-Pro1 first appeared on the scene nearly five years ago, it was joined by just three lenses: the XF 18mm f/2, XF 35mm f/1.4 and XF 60mm f/2.4 macro. Since then, the number of native Fujinon lenses has expanded to 20, with three more due to arrive within the next year, and there are also plenty of third-party options from which to choose.
In this article, we'd like to share the X-mount lenses we feel are the best match for Fujifilm's latest interchangeable X series camera, the Fujifilm X-T2. Although it is being advertised as a sports and action camera because of its advanced continuous focus options, it is perfectly suited to other genres as well, just like the X-T1 that preceded it.
For each genre, we've listed the lenses that we would personally recommend based on our own experience with them. Admittedly there are multiple options, so we've predominantly gone with the lenses that we've enjoyed using the most.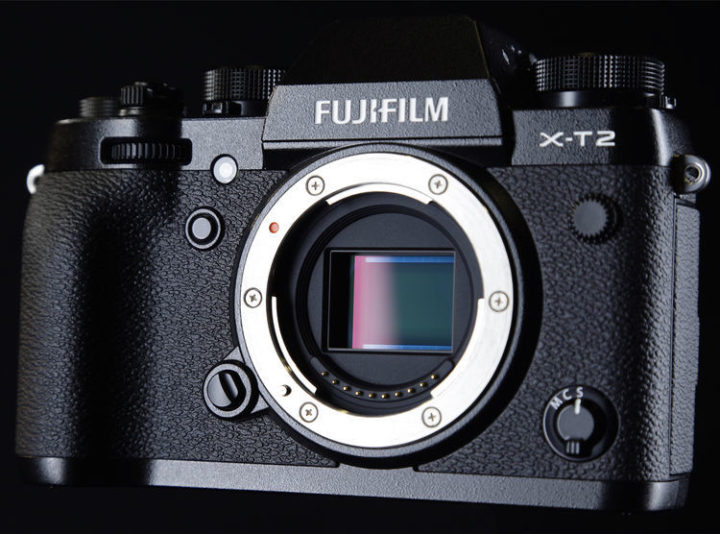 Understanding Fujinon lens terminology:
XF: premium lenses (the ones with the red logo are professional lenses).
XC: a cheaper series of lenses designed for entry-level cameras.
R: Ring, meaning the lens includes an aperture ring.
LM: Linear Motor means that the lens has a faster AF motor. It provides faster speed and silent operation.
WR: Weather Resistant
OIS: Optical Image Stabilisation
For Samyang lenses:
UMC: Ultra Multi Coating to reduce flares
NCS / CS: Cropped Sensor
---
Ethics statement: The following list is based upon our experience with Fujinon lenses. We were not asked to write anything about these lenses, nor were we provided any compensation of any kind. All opinions we express are our own. Within the article, there are affiliate links. If you buy something after clicking the link, we will receive a small commission. To know more about our ethics, you can visit our full disclosure page. Thank you!
---
For beginners
XF 18-55mm f/2.8-4 R LM OIS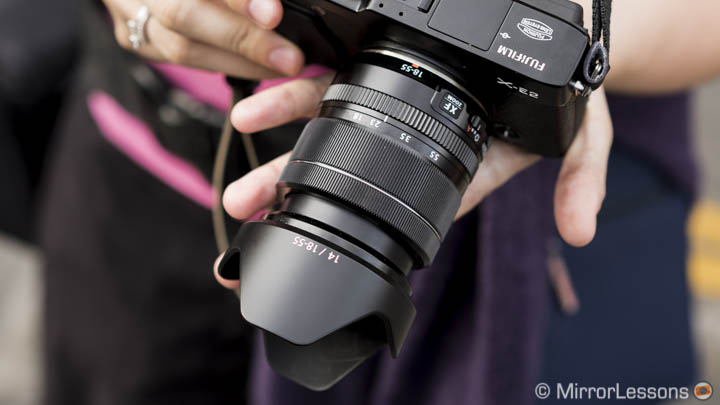 Before getting out your credit card and spending lots of money on lenses, our advice is to start with the kit lens that comes with the camera bundle. Unlike other brands, the 18-55mm is an excellent lens. Actually, to categorise it as a "kit lens" is somewhat belittling.
It gives you good sharpness, a useful zoom range to start with and it has an unusually fast aperture for this type of product (though it isn't constant). It is small and compact, includes good optical stabilisation (4ev of compensation), has a nice build quality (but no weather sealing) and includes an aperture ring. Not bad at all for a start!
---
For fun
Samyang / Rokinon 8mm f/2.8 UMC Fisheye II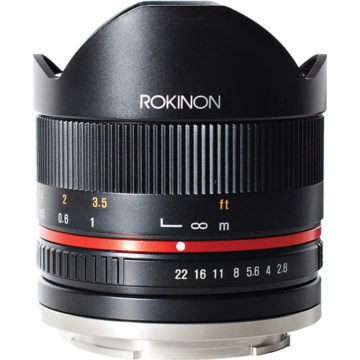 I admit I am not a big fan of this type of lens but in the right hands, fisheye lenses can be a lot of fun. By selecting the appropriate composition, you can give your landscape, cityscape or architecture photographs an original perspective. Even some professional photographers have one in their bag to capture dramatic shots of the scenes that surround them.
This is where the Samyang 8mm steps in: it is sharp, small, light and most importantly, is the most affordable lens on this list. Admittedly we haven't tested it in-depth but we've read lots of positive feedback from photographers and reviewers we know and trust. Plus the lens also performs well for astro-photography and gives good results even when the images are de-fished (you can see some examples in this excellent review by Lonely Speck).
---
For landscape / architectural photographers
Fujinon XF 10-24mm f/4 R OIS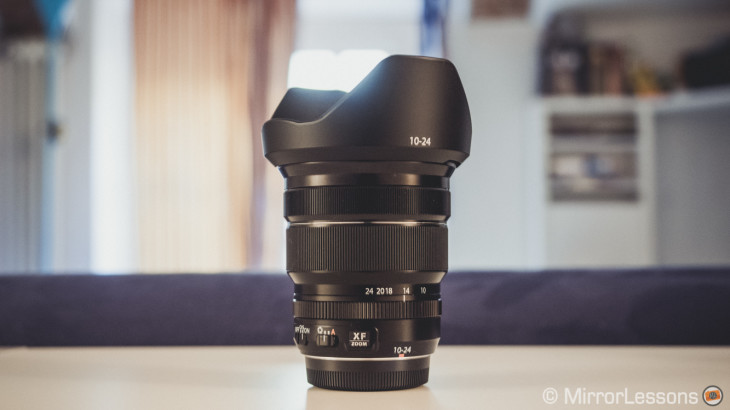 The XF 10-24mm f/4 is the only ultra-wide rectilinear lens in the XF catalogue at the time of writing. Thankfully it is also one of the best lenses you can find for your Fuji X-T2, or any interchangeable Fuji X camera for that matter. Sharpness is excellent across the frame, only decreasing slightly in the corners at 10mm. It handles flare extremely well, which is important for a landscape lens. Barrel distortion is also well -contained.
The barrel is well-constructed and the fact that it has an internal zoom mechanism means that it doesn't extend when you zoom in. Its f/4 aperture can limit its use in low-light conditions if you intend to use it for events or other situations where you need a reasonably fast shutter speed. The optical stabilisation is good and can compensate down to 1/5s on average. For us, it even worked well for a star trail shot one night despite the aperture not being very fast!
XF 14mm f/2.8 R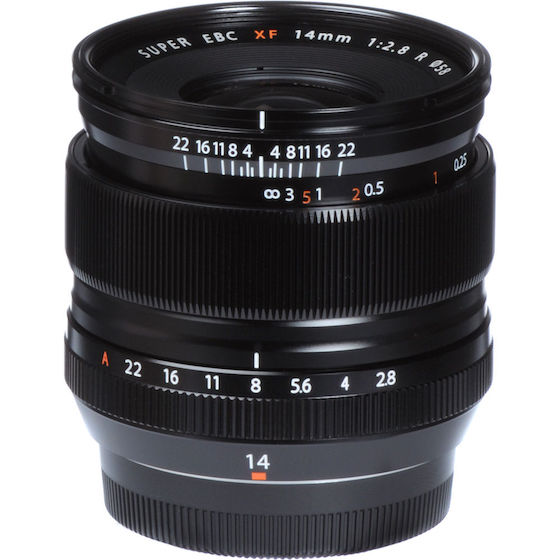 If you want a lighter and smaller alternative within the Fujinon line-up, the 14mm f/2.8 is a good candidate. It hasn't got the fastest AF motor because it was released more than three years ago but it comes with a clutch mechanism on the focus ring to easily switch between autofocus and manual focus, which also reveals a distance scale. We enjoyed using this lens particularly for architecture. Its focal length (equivalent to a 21mm in 35mm format terms) gives a wide view without too much perspective distortion. Sharpness at f/2.8 is good. It becomes razor sharp once you stop down to f/4 and is usable up to f/11 before diffraction kicks in. It has minimal distortion, vignetting and chromatic aberration.
The only flaws are the two rings: the aperture ring moves too freely, causing you to accidentally change the aperture. The "fly-by-wire" focus ring is a bit noisy and lacks some precision. The performance is also good for astro-photography and the distance scale is accurate.
On a budget: Samyang/Rokinon 12mm f/2 NCS CS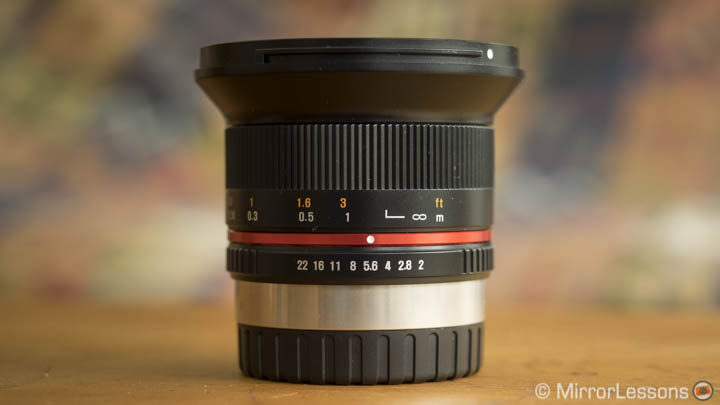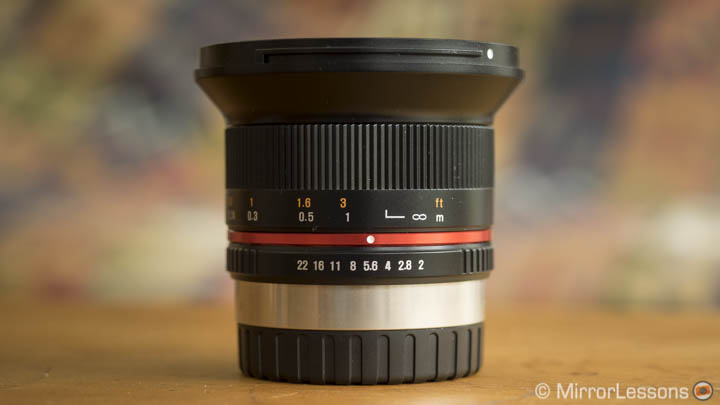 If you are looking for an excellent wide angle lens that is also affordable, then look no further than the Samyang 12mm (18mm equivalent in full frame terms). It is one of the most popular lenses for the X system because of its price (less than $400) and excellent performance wide open for astrophotography (low coma). Sharpness at the centre is good from f/2 and you get decent corners from f/4.  Distortion and vignetting need to be corrected in post-production with the lens profile if you are using the RAW file. As for the OCC JPGs, distortion is handled better than vignetting. You will encounter some ghost flares in direct sunlight but they aren't too invasive.
The lens is not weather sealed and mostly made of plastic but feels robust and the mount is made of metal which is reassuring. It is also very compact so you will always find a way to fit it inside your bag! Note that the lens lacks electronic contacts so the f-stop number won't be recorded in the exif data.
---
For street photographers
XF 23mm f/1.4 R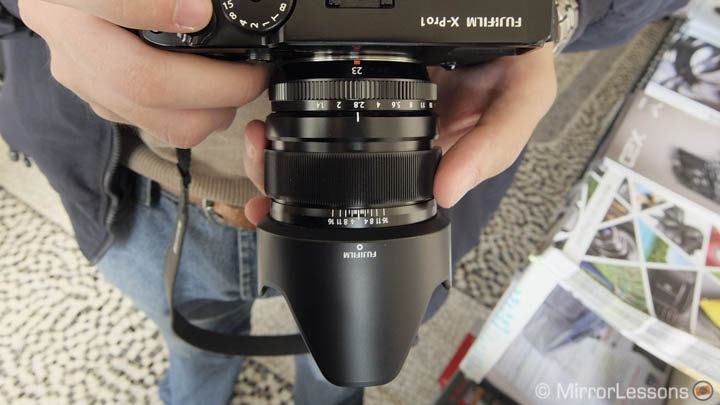 The 23mm gives you the equivalent field of view of a 35mm lens on 36×24 sensor cameras and it is one of the classic focal lengths for street and reportage. Sharpness at f/1.4 is already excellent which means it is also a good bargain for low-light situations such as night street photography or events. The bokeh is pleasant when focusing close, and distortion and vignetting are very well contained. The AF is fast enough in most situations.
The barrel is made of metal and the focus ring features a clutch mechanism to switch instantaneously between auto and manual focus. There is also a distance and hyperlocal scale but we find the latter too small. It is one of the earlier primes lenses that has a loose aperture ring. The plastic hood is also very long, making the lens look larger than it is.
XF 27mm f/2.8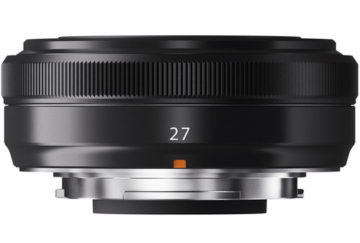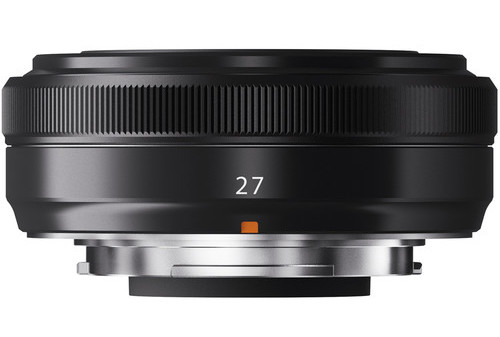 This is a lens we really love because of its very compact "pancake" size. Mount it on the X-T2 and the camera will suddenly look almost as small as an X100T (viewfinder aside). The lens focuses fast, is sharp from f/2.8 and is not expensive. It is an excellent choice for street or when you want to slip your X-T2 inside your bag for a casual photography outing.
On a budget: XF 35mm f2 R WR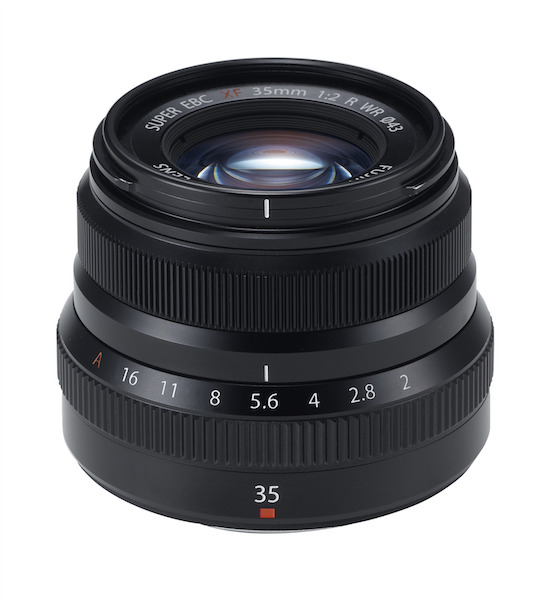 Since its release, the new 35mm has become a favourite amongst many Fujifilm users. Small with a fast AF mechanism and weather-sealing, there are many characteristics to like in comparison to the older f/1.4 version (that we still love by the way!). The sharpness is as good as the 1.4 version and given the good high ISO performance of the X-T2, the loss of 1 stop of light can be tolerated unless you are planning to use it for environmental portraits (in that case, the XF 35mm 1.4 will give you a shallower depth of field).
It is the only lens we haven't tested personally but given the attractive price tag and the positive reviews it has received since its release, we feel it is worth including on this list.
---
For event photographers
XF 16-55mm f/2.8 R LM WR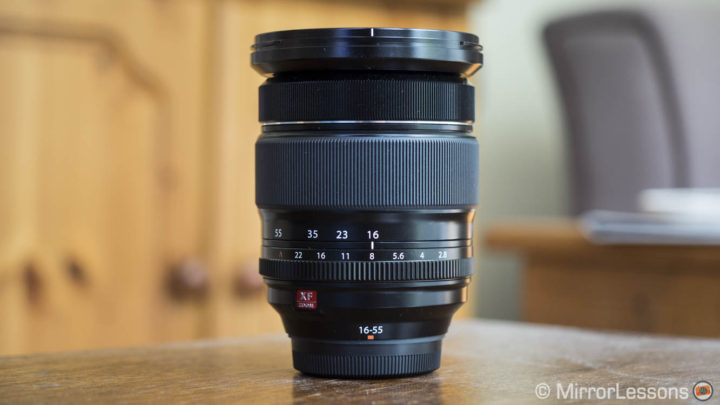 For events and professional work, it is hard to not recommend a fast standard zoom lens, and the XF 16-55mm f/2.8 does its job very well. Sharpness is excellent at all focal lengths from f/2.8 and the lens focuses really fast thanks to the twin linear motors. The construction is good, it is splash, dust and freeze proof, and the focus and zoom rings are comfortable to use. It is quite large but remains a good fit for the X-T2 even without a battery grip.
The only flaw? It lacks optical stabilisation but this is not uncommon for this type of lens (although as technology evolves, one would expect to see it implemented more often).
XF 90mm f/2 R LM WR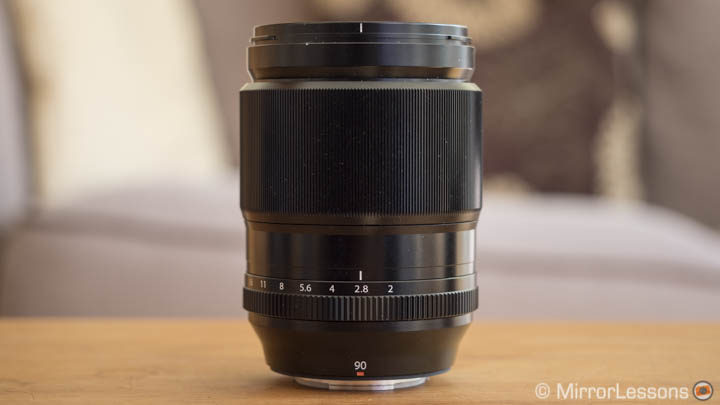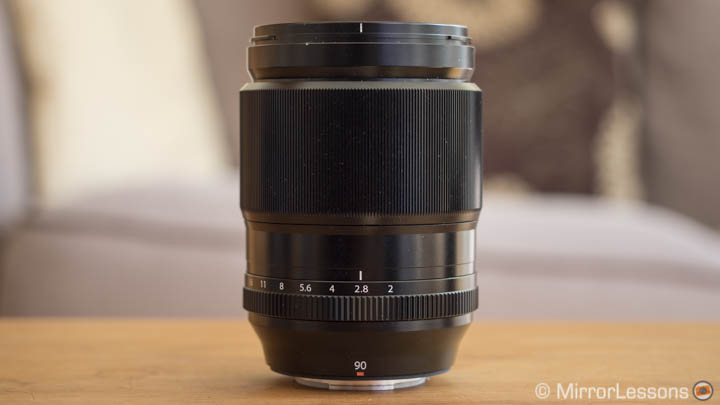 I hesitated a lot about where to put the 90mm. It would naturally fit in the portrait section but I think it can do much more than that. Thanks to its super fast AF motor (a quad-linear motor like the 50-140mm), the lens won't let you down in any situation, action included. Since it is much smaller and faster than the 50-140mm, it can prove very useful in outdoor situations where you can get close enough to the action to isolate the subject or indoors for close-ups. Sharpness is impressive from f/2 and the lens is also weather sealed.
The fixed focal length can appear limiting at first but it is actually more versatile than you might think. The only disadvantage in comparison to the 50-140mm is the lack of optical stabilisation. Still, this 90mm remains one of our favourites in the XF line-up.
Alternative: XF 16mm f/1.4 R WR
Many pros who use the X series like to work with fast prime lenses not only to keep the system compact, but also because low-light events such as weddings may also require it. It is not uncommon to see them carry two or three cameras with different prime lenses mounted. In this case, some of the lenses mentioned in this article like the 14mm, 23mm and 56mm are worth considering.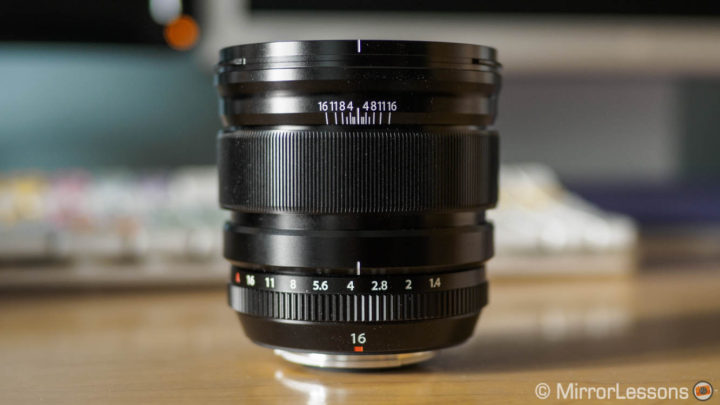 Another one that can be very helpful in low-light situations is the XF 16mm f/1.4. Its field of view suits medium-sized group shots and the lens is already sharp from f/1.4. Great build quality with weather sealing, fast AF, good bokeh rendering when you focus close and low distortion are the other positive specifications worth mentioning. Here again, the only flaw like the 23mm is the very small hyperlocal scale.
---
For portrait photographers
XF 56mm f/1.2 R
The 56mm is the "must have" portrait lens in the Fuji X-series. It is very sharp from f/1.2 and the bokeh has real character although specular highlights lose their rounded shape from f/2.8. It doesn't have the fastest AF compared to some other XF lenses but you will get decent results.
There is also an APD version that includes an apodisation filter to enhance the bokeh. However, you will lose a stop of light however in comparison to the normal 56mm. In our opinion the difference between the two lenses is so subtle that the APD version is not worth the extra $500.
On a budget: XF 60mm f/2.4 R Macro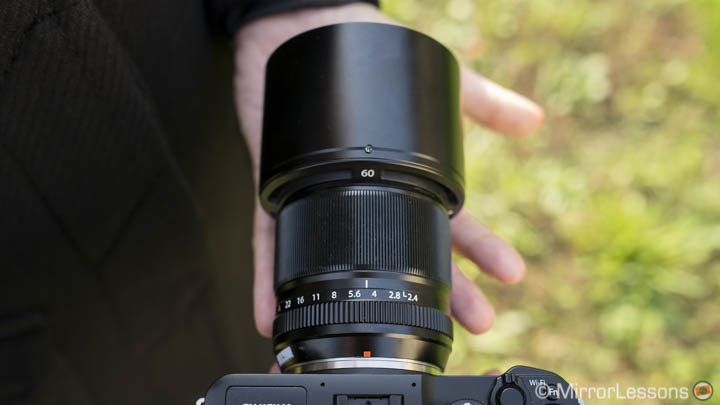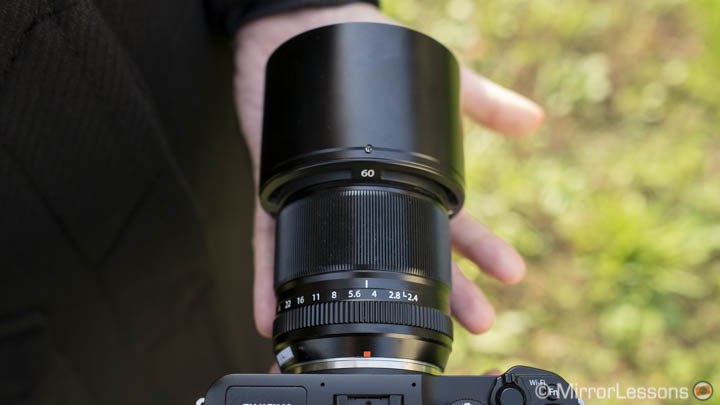 Fujifilm recently announced that a 50mm f/2 is in the works. We also tested the Samyang 50mm f/1.2 on MirrorLessons but unfortunately its performance was disappointing. So if you are looking for an affordable portrait lens, for now the best option is the XF 60mm f/2.4.
It is a semi-macro lens (1:2 ratio) and gives you excellent sharpness from f/2.4. The bokeh is pleasant and the field of view ideal for portraits. Being one of the first three lenses designed for the system, it doesn't have the fastest AF motor but the results are decent. Before the arrival of the 56mm, this was the best choice and it still is if you are on a budget. Plus you might find it easily second-hand or with some special deal if you want to spend less.
---
For sports / wildlife photographers
XF 50-140mm f/2.8 R LM OIS WR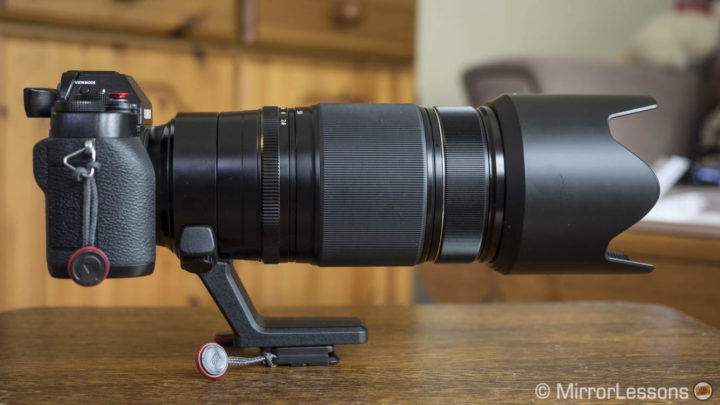 There are only two lenses that we can recommend when it comes to serious sports or wildlife photography. The first is the 50-140mm which is a popular telephoto zoom lens for professional photographers who need a constant 2.8 aperture. The lens doesn't disappoint in terms of sharpness and is one of the fastest AF zoom lenses you can find for the system.
The bokeh is good, albeit not the strongest point of this product, and the minimum focus distance of 1m is useful for close-ups. The optical stabilisation is one of the best for the system. The lens is weather sealed and compatible with the 1.4x and 2x teleconverters (with the fastest apertures switching to f/4 and f/5.6 respectively).
XF 100-400mm f/4.5-5.6 R LM OIS WR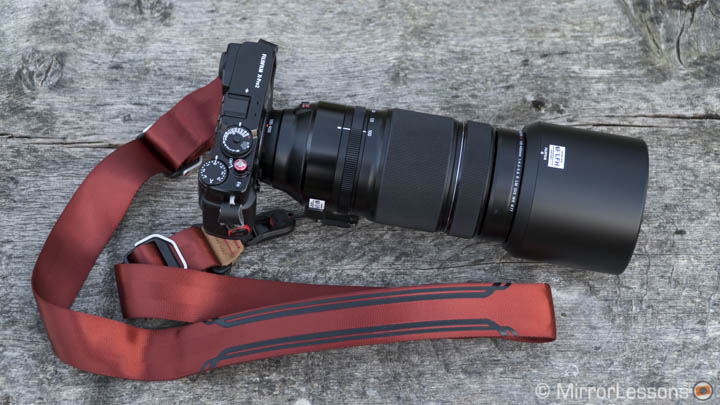 Introduced at the beginning of the year, the 100-400mm was highly anticipated by wildlife photographers and doesn't disappoint. The AF motor is fast, the optical performance is excellent, and the optical stabilisation is probably the best of all OIS lenses from Fujifilm. It is fully weather sealed and built like a tank. It is also compatible with the two teleconverters, although the TC 2x can be limiting because the aperture becomes very slow (9-11).
Perhaps the only real limit is the size and weight: it isn't so different from a DSLR equivalent. (Actually the Canon 100-400mm is even lighter.) So if you are thinking of switching from a DSLR system to mirrorless for wildlife, this lens could dampen your enthusiasm if you aren't planning to use the X-T2 for other genres and don't want to stick with two systems.
Note that with both lenses, we strongly recommend the optional battery grip to preserve the ergonomics of the combination  and have a better grip on the body when shooting.
On a budget: XF 55-200mm f/3.5-4.8 R LM OIS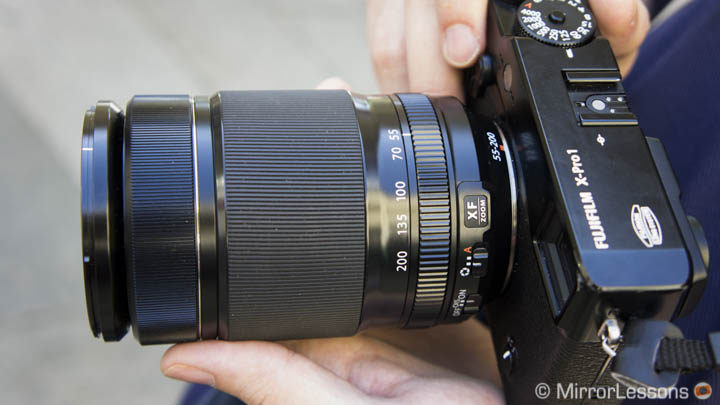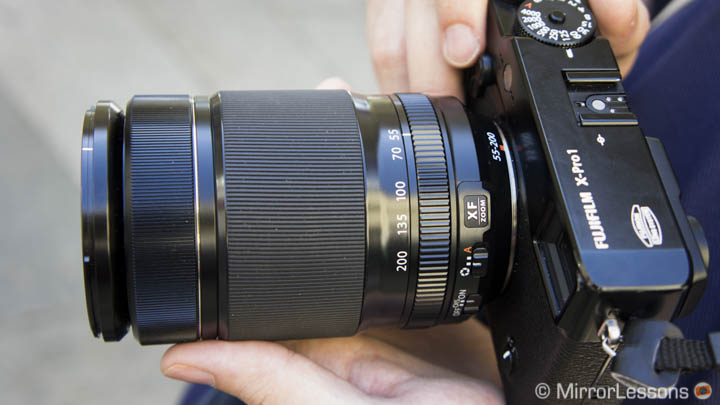 The 55-200mm might not give you the same AF performance but it is a good alternative as far as the optical quality is concerned. It is also compact which can suit someone who wants to travel light. It features optical stabilisation and has a decent bokeh for occasional portrait work. It is not weather sealed and the build quality is not as good as the lenses mentioned above but it is worth considering if you want to get your feet wet in the sports world.
---
For macro photographers
Zeiss Touit 50mm f/2.8 Macro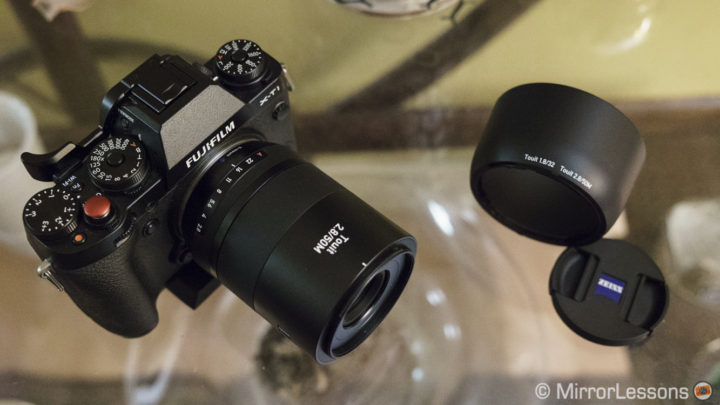 The Zeiss 50mm is the only 1:1 macro lens available for the system but that will soon change since Fujifilm announced the development of an 80mm macro lens. However, it won't be available before 2017. In the meantime, the Zeiss lens offers excellent optical quality and 1:1 magnification. The only real downsides are that the focal length can feel a little bit short at times and the AF motor is somewhat noisy.
Note that you might need to upgrade its firmware to enable phase detection compatibility. It can be downloaded from the Zeiss website.
MCEX-11 and MCEX-16 macro extension tubes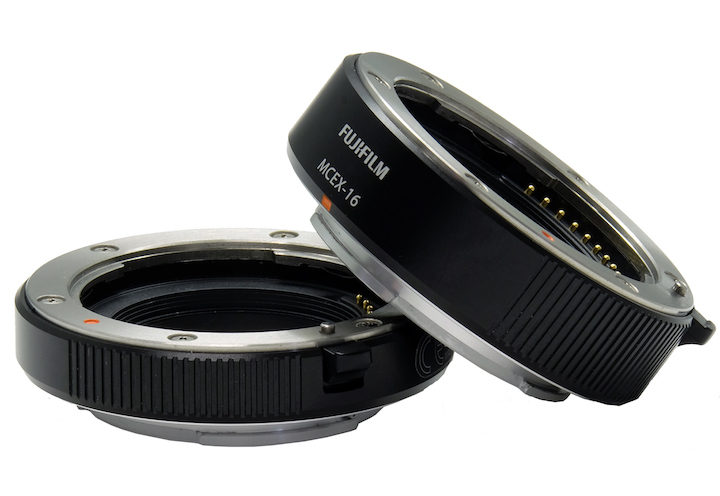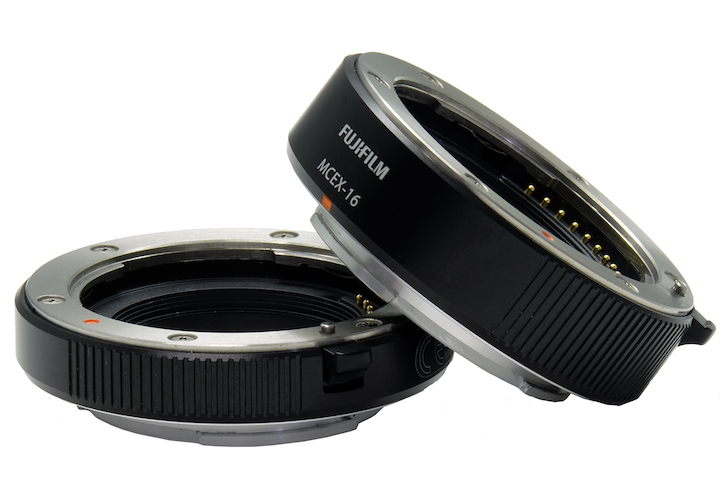 If the Zeiss or the aforementioned 60mm don't convince you, another option is to use the Fujifilm macro extension tubes. You mount them between the camera and the lens and as a result, you will be able to focus much closer than the native optical limitation of the lens. They include electronic contacts so you can still use autofocus.
Two versions are available: 11mm and 16mm depending on the level of magnification required (note that is will also vary depending on the lens used). They are definitely a cheap alternative to get nice close-ups.
---
For travel
XF 18-135mm f/3.5-5.6 R LM OIS WR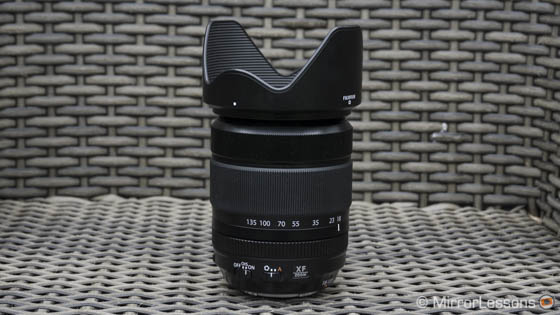 If you are looking for versatility and want an all-purpose lens, the XF 18-135mm is one of the best we've tested. It has very good optical quality for this type of lens. The aperture range isn't particularly fast but the stunning optical stabilisation (5 Ev by CIPA standards) will prove very useful in low-light. The AF motor is also good for action shooting.
The lens is weather-sealed and as an all-purpose solution, we can't recommend a better product. The size is reasonable and remains comfortable to use on most X-series bodies including the X-T2.
---
You might also be interested in: