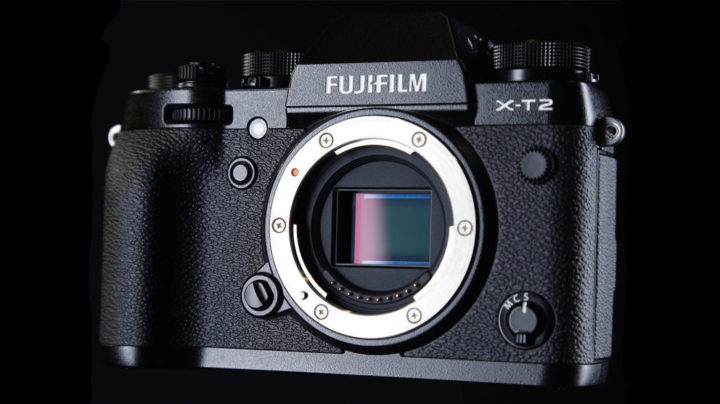 The Fujifilm X-T2 is the long-awaited successor to the X-T1, whose enormous success two and a half years ago caught everyone, including Fujifilm itself, by surprise. With an updated hybrid autofocus system, 4K video and a 24MP X-Trans III sensor, it only has one primary target in mind: DSLR users who wants to switch to a lighter system.
In preparation for the X-T2's launch, Fujifilm asked a number of X-Photographers to shoot with the camera and share their impressions on their respective blogs and social media platforms. After spending most of yesterday immersed in these reviews, I've come up with a list of the ten that I feel are most deserving of a read.
Note: Keep in mind that these photographers are all ambassadors for the brand and as such, some bias does inevitably exist. It is for this reason that I've mostly chosen reviews that balance opinion with beautiful imagery. After all, there is no better proof of a camera's capabilities than a beautiful image!
---
1. Jonas Rask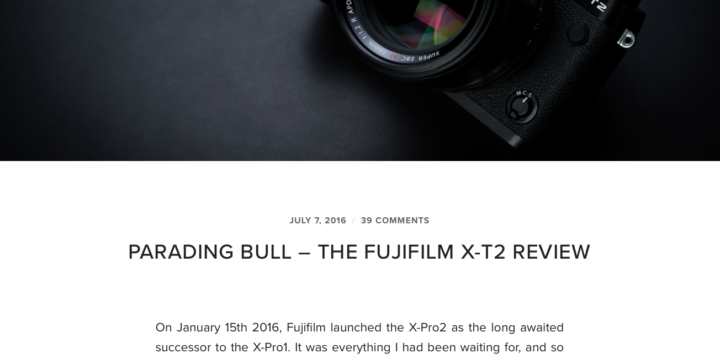 Whenever a new Fujifilm camera comes out, rest assured that you'll see a review from Jonas Rask. Although he isn't a "professional photographer" in the sense that he doesn't make a primary living from photography, he has an incredible eye for colour and composition and a real knack for visual storytelling.
For his review, he was able to test the X-T2 for nearly every genre: he shot landscapes in Iceland, a concert, a friend's wedding, a classic car race, and portraits of a motorcycle club. Of all the photographers listed here, it is Jonas who made the biggest effort to put the camera to the test in every possible circumstance, which is no easy task when your full-time profession is medicine!
Key observations by Jonas:
the new eye cup is a great asset for eyeglass wearers
the blackouts in the EVF are almost non-existent
loves that you now have 2nd curtain sync when using flash in manual mode
---
2. Dan Bailey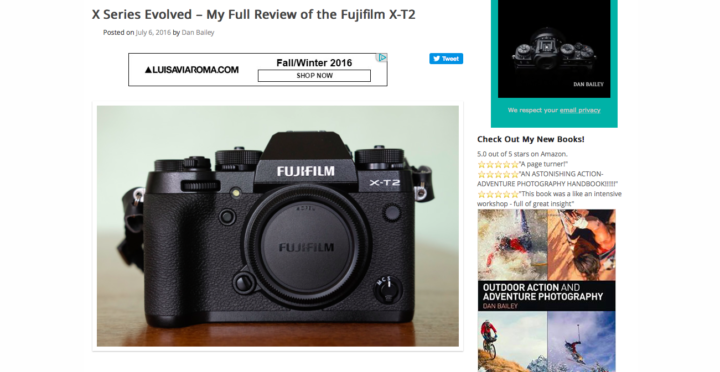 Dan Bailey is an action and adventure photographer by profession, so I was looking forward to reading his take on the X-T2 for his genre of work. Unsurprisingly, he feels that the gap between mirrorless cameras and DSLRs has officially closed, stating that the X-T2 is:
…the X Series all grown up and ready to stand alongside the best cameras in the world in terms of quality and performance.
He backs his statements up with some great sports, wildlife and landscape shots from Alaska.
Unlike other photographers who have stated that the new vertical grip will be a permanent attachment, Dan feels that, for his work, 8fps is more than enough.
Key observations by Dan:
new image processing system manages the deep reds and magentas better
---
3. Jeff Carter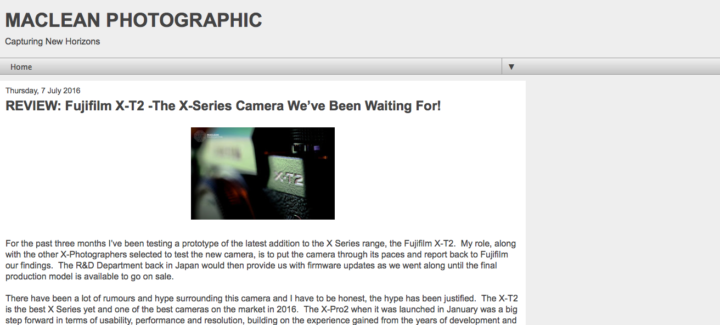 Another photographer whose opinion will matter to sports and action photographers thinking of switching over to Fujifilm is that of Jeff Carter, a professional motorsport photographer who has been testing the X-T2 for the past three months at big events such as Le Mans in France and the FIA World Endurance Championship event at Silverstone.
Regarding the new C-AF Custom settings mode, Jeff states that the ideal setting for motorsports is Set 3 (Accelerating / Decelerating subject). With the camera set to 11fps with the vertical grip, he was able to:
…follow focus a car through the final set of corners at Le Mans and take 26 images all perfectly sharp.
Finally, if you need proof of the X-T2's suitability for high-speed sports, simply scroll to the end of Jeff's article and check out the amazing motorsport images!
Key observations by Jeff:
the 325 focus points drop to 91 if Zone Focus is selected
results with the electronic shutter for moving subjects are better than the X-T1 but still not perfect
---
4. Tom Museeuw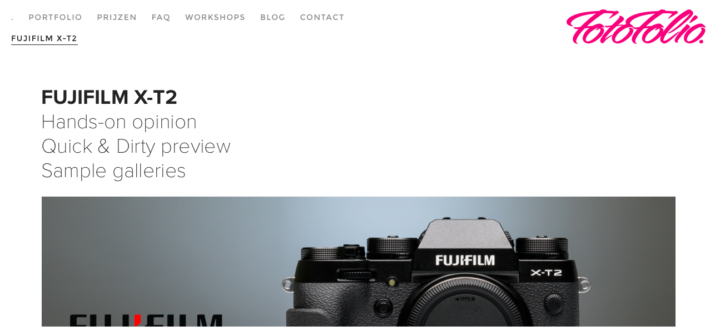 Tom Museeuw is a professional children's fashion photographer who states that he needs a camera whose images are, in his words, "as colour correct as possible." With the X series, he feels he has no problem delivering this level of quality.
Although most of what Tom writes about the X-T2 is similar to what other reviewers have shared (to be fair, there is only so much you can say!), I really enjoyed his review because of the sheer number of sample portraits he provides at the end of the article, all of which are from professional studio and outdoor sessions for his clients.
Near the end of the review, he also provides a clear bullet-point list of his favourite features compared to the X-T1.
Key observations by Tom:
feels that the vertical grip for the X-T2 has a better feeling than the X-T1 version
---
5. Olaf Sztaba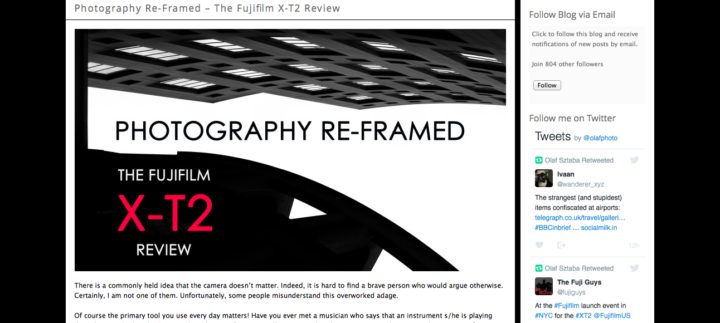 I always find Olaf Sztaba's article a pleasure to read, regardless of whether it is a review or an account of his travels with his wife and fellow photographer Kasia. He always posts spectacular images from the places they visit, most of which are a mix of portraits, landscape and street, and his X-T2 review is no exception.
Of all the photographers listed here, he and Kasia are the only ones who seem doubtful about the usefulness of the new C-AF settings, as they feel they might confuse the end-user and prove more detrimental than helpful. However, they freely admit to not being frequent users of C-AF anyway.
Interestingly, Olaf concludes by saying that he prefers the simplicity of the X-Pro2 whilst Kasia is more taken with the X-T2. I will be curious to see if their opinions change over time!
Key observations by Olaf:
finds that the brightness of the EVF isn't always accurate (but this issue may be limited to the pre-production sample they used)
---
6. Scott Grant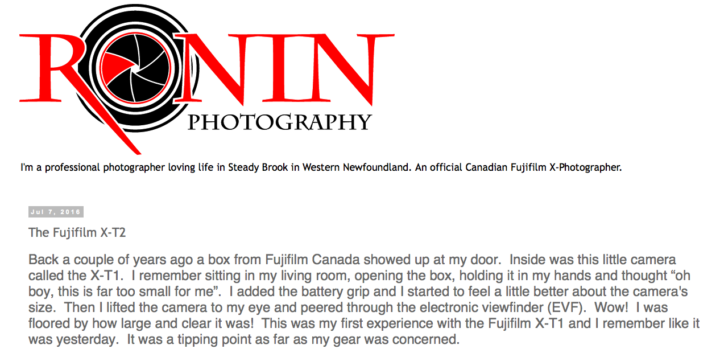 If you're looking for a review that goes into the nitty-gritty about every single physical aspect that has changed with accompanying product shots, Scott Grant's review is a great place to start. When asked about his favourite customisable feature, he immediately names the programmable shutter button, as you can easily enable or disable exposure lock and focus.
Accompanying the review are a number of beautiful landscape and wildlife images taken around Newfoundland and Florida.
Key observations by Scott:
wishes the Q button and the joystick were reversed as he is prone to changing focus points more than using the quick menu
Read Scott's X-T2 review here!
---
7. Damien Lovegrove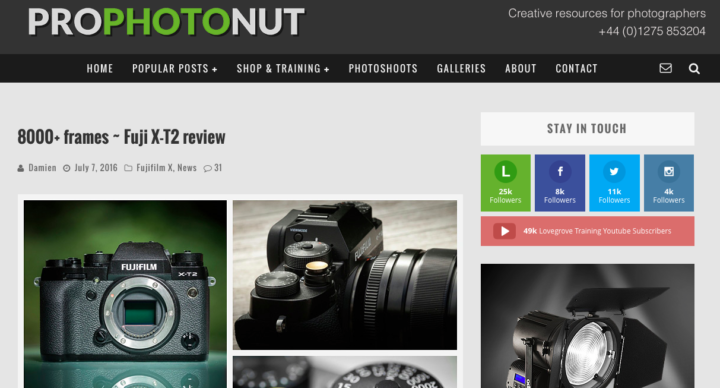 Damien Lovegrove is another X-Photographer who always receives pre-production X series gear before everyone else, and it isn't difficult to guess why: he is an excellent portrait photographer and a wizard with flash.
Being one of the only photographers to have had the chance to try the new EF-X500 flash on the camera, it is definitely worth reading his first impressions if you are interested in flash photography with X-series cameras. And as always, he has included a number of sample portrait images to back up his words.
An interesting comment he makes concerns the X series lenses. Originally, he had assumed that the 24MP resolution of the new sensor would be limited by the lenses, but it turns out that they were designed with the benchmark of 24MP right from day one.
Key observations by Damien:
he no longer accidentally changes the position of the Drive dial when he turns the ISO dial because the ISO dial is taller and easier to grab
feels the three-way tilting screen is a game-changer for portrait work
confirms that Adobe Lightroom is already X-T2 ready (Lightroom 2015.6)
Read Damien's X-T2 review here!
---
8. Kevin Mullins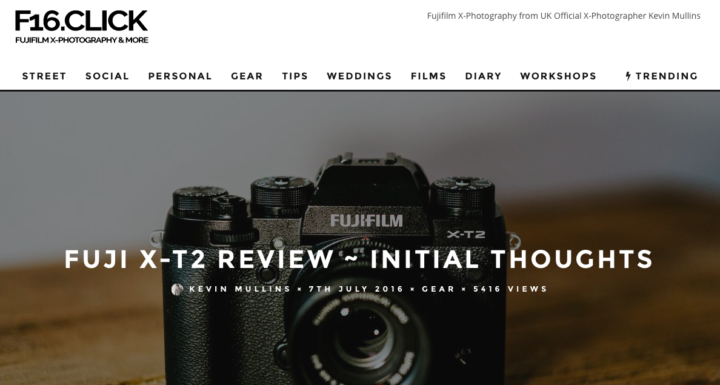 Something that struck me whilst reading the many X-T2 reviews that have appeared online is that hardly anyone has tested the 4K capabilities of the camera. Most photographers simply state "I have no interest in video" and move on to the next section.
Kevin Mullins, a documentary wedding photographer by profession, is one of the only reviewers who seriously tried the 4K capabilities using a Rode NTG-2 shotgun microphone and an XLR > 3.5mm cable converter. The sample clip he shares is quite basic but it clearly shows what the 4K footage is like.
Of course, Kevin's review doesn't end there. He also talks about flash photography, tethering / Wifi,  macro photography with the MCEX-Macro Extension Tube, and more.
Key observations by Kevin:
you can control video as well as stills exposure using the Fuji Remote app
X-T2 has better focus acquisition in low-light than the X-T1
says it is actually possible to take nearly 2000 shots depending on certain camera configurations
Read Kevin's X-T2 review here!
---
9. Bjorn Moerman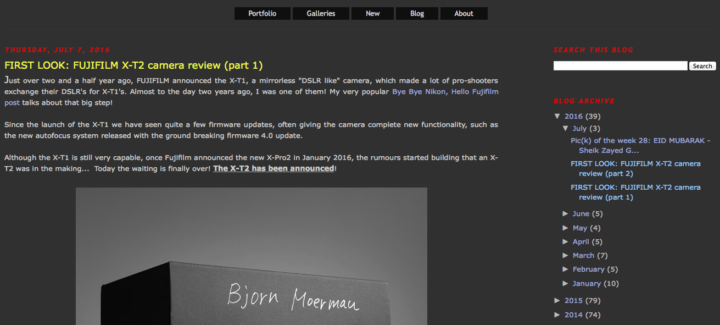 Bjorn Moerman decided to split his review into two parts: the first deals with the ergonomics of the body whilst the second deals with the image quality and performance.
Although both sections are interesting – especially the landscape and aerial photography in part two – I particularly appreciate how Bjorn took the time to explain how the new NP-W126S battery differs from the previous version in terms of energy efficiency and overheating.
He also talks about the improved quality of the rubber skin, which on the X-T1 had begun to come loose in the humid climate of Dubai.
Key observations by Bjorn:
there is a more linear drop-off as the battery reduces in charge
the battery percentage shows in digital form
with the grip attached, the camera seems to drain the batteries at random
Read Bjorn's X-T2 review here (part one and two)!
---
10. Dyanne Wilson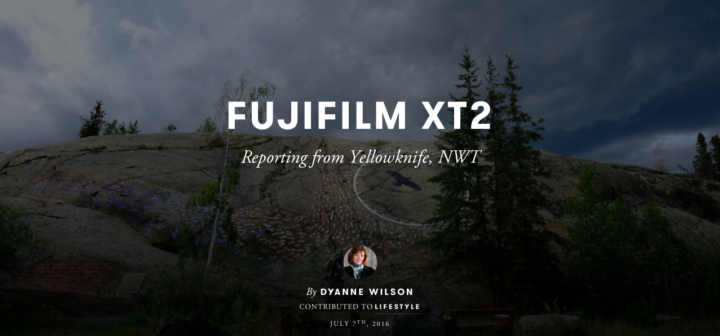 Dyanne Wilson's is one of the shorter reviews here but the lack of words is compensated for by the fabulous imagery from Yellowknife in the North West Territories of Canada. As you can imagine, her main focus was landscapes and wildlife.
An interesting comment she makes concerns the increased height of the dials. Besides the fact that they are easier to turn, she also feels she could probably operate them with gloves in the winter, which is a big advantage if you often work in very cold climates such as the north of Canada.
Key observations by Dyanne:
the on/off button is easier to turn
torque of the Drive and Metering dials has been improved
it isn't much bigger than the X100 series with a pancake lens
Read Dyanne's X-T2 review here!
---
Of course, this is just a handful of the many good reviews that have been appearing online since the camera's announcement, and I can say that our anticipation to test the camera ourselves is growing with every article we read!
In addition to these reviews, you can also check out the following previews by the most popular review websites.
The Camera Store TV  |  Camera Labs