Imagine a camera. Good, now imagine that this particular camera looks exactly like a person. You tap his shoulder to release the shutter. When he blinks, he takes a shot. For continuous shooting, he blinks repetitively. And the same blinking motion is used if the memory card is full.
This funny idea can be seen in a commercial for the Sony RX100 IV made in Thailand. The protagonist walks around with a tall and muscly man. We understand quickly that he represents a DSLR. The video shows how our photographer is struggling to take a selfie or to be discreet and go unnoticed.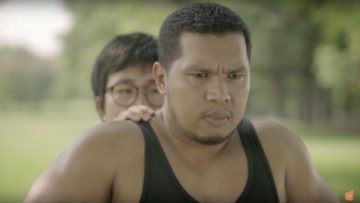 At the end of the video, the main character meets a girl who is walking around with a shorter and slimmer person that represents the Sony compact camera. He and his DSLR buddy will soon realize that the RX100-man version has similar functionalities, as well as unique features like 4K video, a flipping screen, and so on.
You can watch the video below. Seen first via 43rumors.