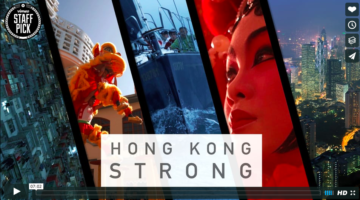 A few months ago, we shared a post about filmmaker Brandon Li who had just released a short documentary about the Nomads of Mongolia. His latest short film, Hong Kong Strong, explores:
… the madness and beauty of this seemingly impossible city in the days leading up to Chinese New Year.
Brandon Li does an incredible job of capturing the heart and soul of the city by bringing together unrelated elements to represent a singular theme. For example, he jumps between a scene of a Chinese dragon racing through a restaurant and two children running through a labyrinth, and by doing so, communicates the energetic and chaotic nature of the city.
The entire video was shot primarily on the Sony A7r II but he also used the Sony A7s II, Sony A7s, Sony a6000, Sony RX10 II along with a whole slew of Sony FE lenses. (If you're interested to know about all the gear he used, I encourage you to watch the Director's Commentary.)
It was produced with Ansley Sawyer and features an original score by Steven Richard Davis.
Hong Kong Strong from Brandon Li on Vimeo.