Today Fujifilm announced that the first firmware update for the flagship X-T2 will be available to download on November 8th. Version 1.10 will bring compatibility with tethering via USB, an upgrade that was already pre-announced when the camera was released. The process should be really fast with the X-T2 since it has a USB 3 port.
The X-T2 will need an additional software in order to work in tether mode:
Tether Shooting Plug-in PRO for Adobe® Photoshop® Lightroom® Ver.1.3 or later
Tether Shooting Plug-in for Adobe® Photoshop® Lightroom® Ver.1.3 or later
Tethered Shooting Software HS-V5 Ver.1.3 or later.
The first on the list, Tether Shooting Plug-in PRO, is a new plugin that was also announced today. It will be compatible with both X-T1 and X-T2 cameras and will be available for purchase as an Add-on for Lightroom at the beginning of November 2016 for $79. Note that for Windows users, the compatible version will hit stores a month later in December.
Some of the features of this new Pro plugin will allow you to control shooting from either the camera or the computer by choosing "Camera Mode" or "PC Mode".
You may be wondering what the difference between the Pro and Standard versions of the Tether Shooting plug-in will be. Well, one new feature of the Pro version is called Control Panel. It will help you check captured images more quickly than before and have additional settings to control the camera. You will also get Live View directly on the computer. With the X-T2, you will also be able to back-up and restore all camera settings.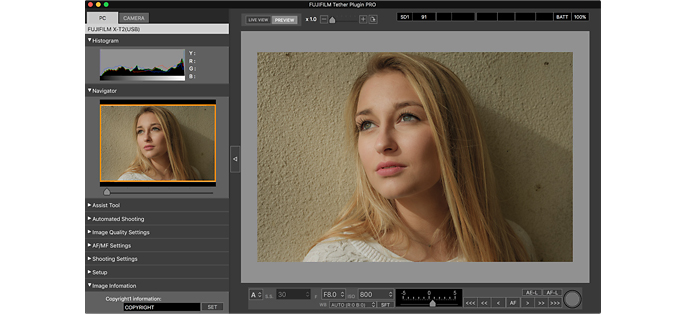 To be compatible, the X-T1 will need firmware version 3.10 minimum which is already available for download (actually the X-T1 latest firmware is 4.31 so if you update your camera regularly, you should be okay).
The only little disappointment is the lack of compatibility with the other flagship camera, the X-Pro2.