There was a time when mirrorless cameras were struggling to achieve popularity in the United States. Thankfully, this is no longer the case owing to the many excellent products that have surfaced on the market over the last couple of years. Of all the mirrorless brands, Sony seems to be the one that is really taking off. In a recent press release, the American headquarters released an interesting statement that shows they are now #2 on the interchangeable lens camera market – behind Canon but ahead of Nikon.
Sony explains that they have seen record sales in 2017 with double the growth (plus 23%) compared to the same period in 2016. Mirrorless cameras have played a key role in this success, especially the full-frame models such as the A7s mark II and A7r mark II. Sony also explains how their own growth is helping the growth of the overall full-frame market.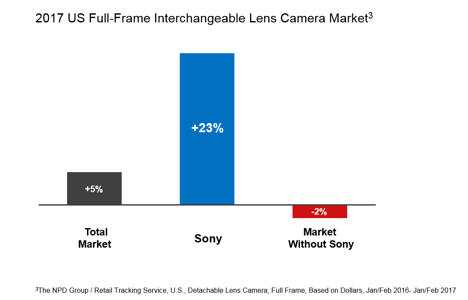 This good news comes as a surprise, though not entirely. Sony is already known as the mirrorless camera manufacturer that is growing the fastest, and this news from North America is yet another example of how the company is becoming increasingly relevant in the camera business.
Certainly part of this success can be attributed to the recent problems that are affecting Nikon: the corporation recently announced a restructuration and their DL series was cancelled.
Now the question is: can they become #1? Canon is definitely looking stronger than its historical rival but Sony cameras are becoming more and more popular not only for stills but also video. The years to come should definitely prove interesting in this regard.