In a press release published yesterday, Nikon revealed that its series of DL premium compact cameras have officially been cancelled. The series was first announced last year and sounded very promising: Nikon unveiled three 1-inch sensor compact cameras, each with different characteristics. The DL 18-50 f1.8-2.8 was supposed to sport the widest zoom ever seen on this type of product, while the DL24-500 f/2.8-5.6 had an attractive telephoto range. With phase detection autofocus and impressive continuous shooting speeds inherited from the 1 series (20fps with C-AF and 60fps with S-AF), they promised to give other 1-inch cameras a run for their money.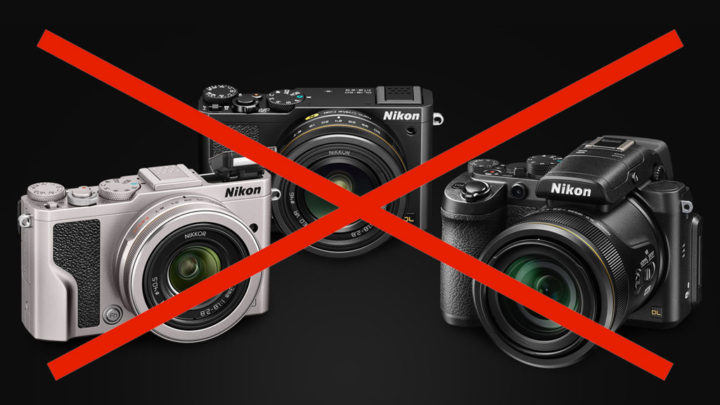 However Nikon faced some challenges in bringing these products to market including the Kumamoto earthquake that slowed Sony's sensor production for several months. Originally planned for release in June 2016, the cameras were delayed indefinitely also because of issues with the integrated circuit for image processing. In the end, Nikon decided to drop the series before it was even released. As they state in their press communiqué:
…the DL series will be canceled due to concerns regarding their profitability considering the increase in development costs, and the drop in the number of expected sales due to the slow-down of the market.
This statement raises some interesting questions about the 1-inch compact camera market. Other brands such as Sony, Panasonic and Canon are heavily investing in it. Given the high price tags of these cameras and the overall declining camera market, it does raise questions about the profitability of these cameras. Perhaps Sony is doing better thanks to the popularity of the RX100 series and the fact that older models now cost much less. But after a not-so-successful 1-inch interchangeable-lens series, Nikon probably thought that it was best to concentrate its efforts on other things. But there is more to the story.
Back in November 2016, Nikon announced that it was under a "fundamental company-wide restructuring to improve its corporate value". In a new notice also published yesterday, the Japanese brand recognised a loss of 29,790 million yen (more than 260 million dollars):
In accordance with this restructuring, the Group recorded extraordinary loss of 29,790 million yen, mainly incurred from inventory write-downs/write-off in Semiconductor Lithography Business, as restructuring expenses for the nine months ended December 31, 2016.
Nikon is also asking more than 1,000 employees to retire early (with a bonus) from the semiconductor lithography plant  in North West Tokyo. This operation will cost the company an extra 16.7 billion yen.
These are definitely hard times for a company that is one of the main references in the digital camera industry today and is just getting ready to celebrate its 100th anniversary in July 2017. We also wonder what will happen to the 1 series since there have been rumors in the past about a possible cancellation as well.