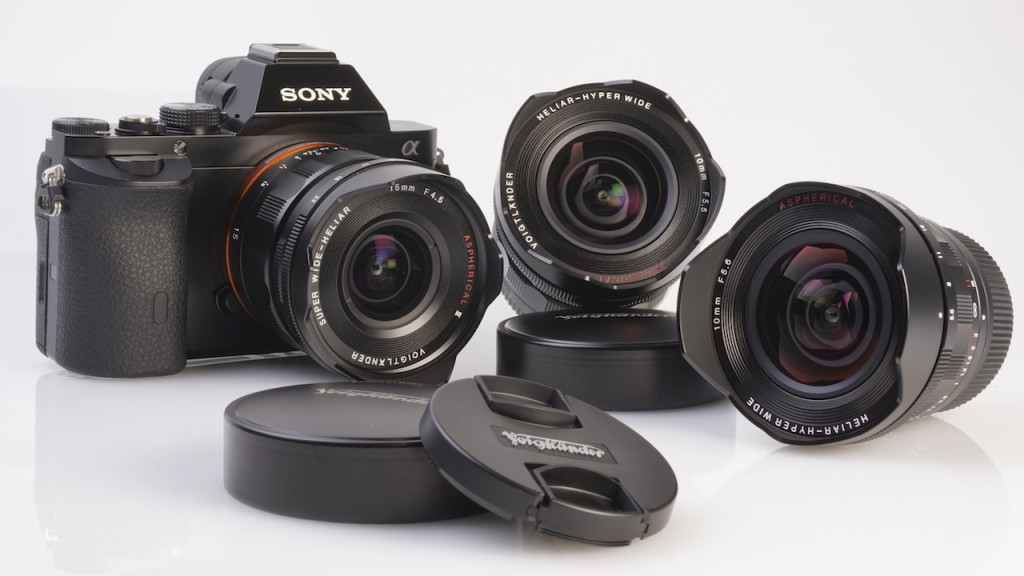 As you might already know, Voigtländer is about to release three new wide-angle lenses with a native E-mount and Exif data compatibility for Sony full-frame mirrorless cameras. Some official information and hands-on reviews have already started appearing online since the lenses were first shown at the CP+ show in Japan.
The 15mm III is already available for pre-order at B&H for $800 with availability at the end of March but we received some additional information.
First, we have some UK prices which are as follow:
10mm f/5.6 E-mount: £699.00 + Vat (availability: April)
15mm f/4.5 E-mount: £549 + Vat (availability: May)
The 10mm f/5.6 M-mount version will cost slightly more at £599.00 + Vat (avail. May too). There is no information about the 12mm f/5.6 yet.
Like the previous VM lenses, the new lenses will feature an all-metal build and a clicking aperture ring that turns in 1/3 steps.
We also have some additional information about how the electronic contacts on the lens will communicate with the camera bodies. The good news is that they will have full compatibility like the Sony and Zeiss Loxia lenses.
The Exif data of the lens will be recorded including the lens name (example: E 15mm F4.5), focal length, maximum aperture and aperture
The lens correction data will also be available. In the Sony menu you can select Auto for fall off (vignetting), chromatic aberration and distortion just as you can with other E-mount lenses.
Like the Zeiss Loxia lenses, you will also have the option to activate the manual focus assists when turning the focus ring and choose the duration (2s, 10s or unlimited).
The focus distance you are focusing to will be indicated on the LCD screen when rotating the focus ring.
The lenses will include information to correct irregularities in the exposure when using fast shutter speeds (1/4000s and 1/8000s) with the electronic front curtain shutter.
Finally, because of all the data transmission including the focus distance, the lenses will be compatible with the 5-axis stabilisation system of the A7 mark II generation cameras.