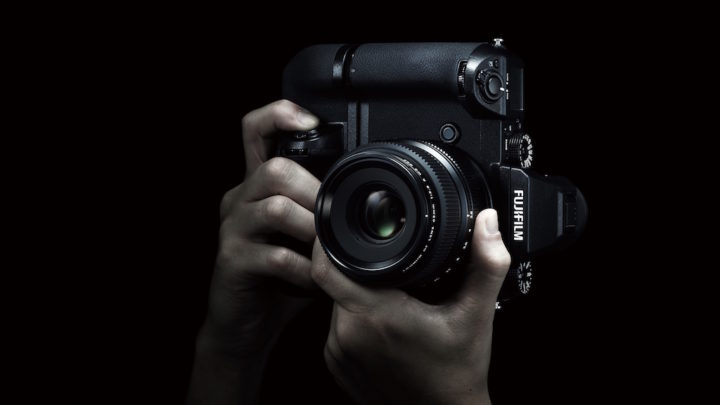 The Fujifilm GFX 50S was first unveiled at Photokina in September 2016, becoming the company's first digital medium format camera in the new GFX series, as well as the world's first medium-format camera with a focal-plane shutter.
Today not only did we discover the full array of specifications and official release date but also the final price, which Fujifilm had promised would be below $10,000. At $6,500 or £6,199, Fujifilm certainly delivered: it is in a similar ballpark to the full-frame Nikon D5 and Canon 1D X Mark II and easily undercuts the Hasselblad X1D, which sells for around $9000.
The GFX 50S features the brand new G mount with a short flange distance of 26.7mm due to the lack of a mirror. Other benefits to being mirrorless include a smaller and lighter form factor and no mirror slap. The new G lenses announced alongside the 50S – the GF 63mm f/2.8, GF 32-54mm f/4 and GF 120mm f/4 –  are also fairly compact because the camera uses a focal plane shutter instead of a leaf shutter. The maximum speed of this shutter is 1/4000s (mechanical) or 1/16000s (electronic).
Turning to the body, which is completely weather-sealed, we immediately notice two screens: a 3.2-inch 2.69M-dot tilting LCD touchscreen on the rear and a 1.28-inch display on top. Also included is a detachable 3.69M-dot electronic viewfinder, although to manipulate its position it is necessary to purchase the separate EVF-TL1 tilt adapter.
It also sports a focus lever on the rear to change the AF point and a UHS-II compatible dual SD card slot – two features inherited from the X-Pro2 and X-T2.
At the heart of the new camera is a Bayer-type 51.4MP medium format sensor (43.8 x 32.9mm) that is 1.7x larger than full-frame and four times larger than APS-C sized X-Trans sensor used for Fujifilm's X-series cameras. It uses specially shaped micro lenses that collect light more effectively and can be cropped to various aspect ratios, including 4:3 (default), 3:2, 1:1, 4:5, 6:7 and 6:17.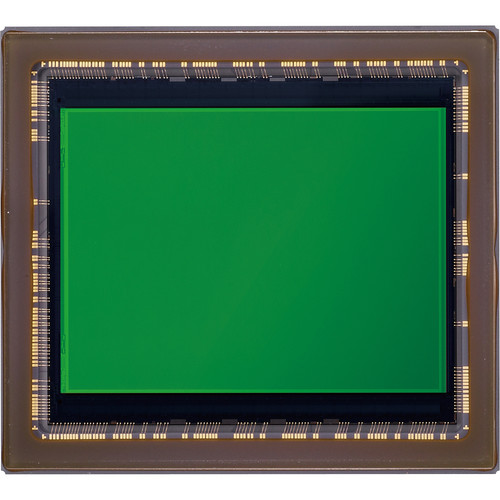 The high-performance X-Processor Pro, also found on the X-Pro2 and X-T2, is present as well.
As for the image quality, the camera produces 14-bit RAW files and you can create TIFF files in camera. You will also find Fujifilm's full range of well-loved film simulation modes.
It features an ISO sensitivity range of 100 to 12800 (ISO 50 to 102,400 extended values), a 117 point contrast detection autofocus system, a maximum continuous shooting speed of 3fps, and Full HD video at 24, 24 and 30fps.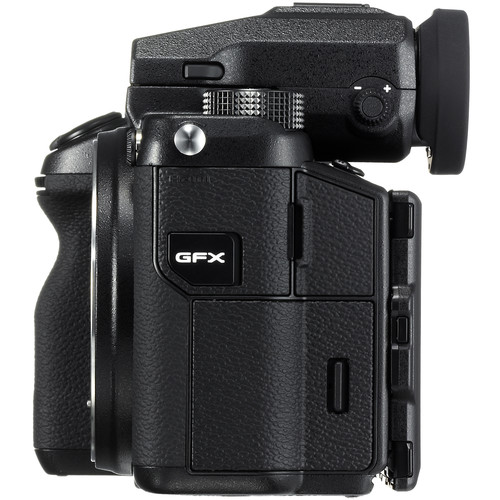 For those interested in mounting Fujinon HC lenses, an H to G-mount adapter will be made available that enables access to the leaf shutter and provides full electronic control. Other accessories include the VG-GFX1 portrait/battery grip and the aforementioned EVF tilt adapter.
The GFX 50S is currently available to pre-order and will begin shipping at the end of February 2017.