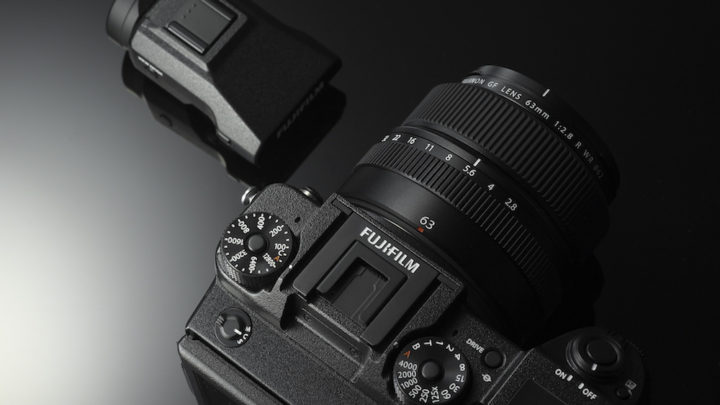 Although many rumours preceded the announcement, the excitement in the Photokina press room was nevertheless tangible when Fujifilm officially announced the development of the GFX 50S, the company's first digital medium format mirrorless camera.
The camera is still pre-production with many specifications yet to be finalised, but in the meantime, here is a summary of the information we were able to glean from the press release and various interviews held with the brand managers, including our chat with Billy of the Fuji Guys.
---
New G Mount and mirrorless design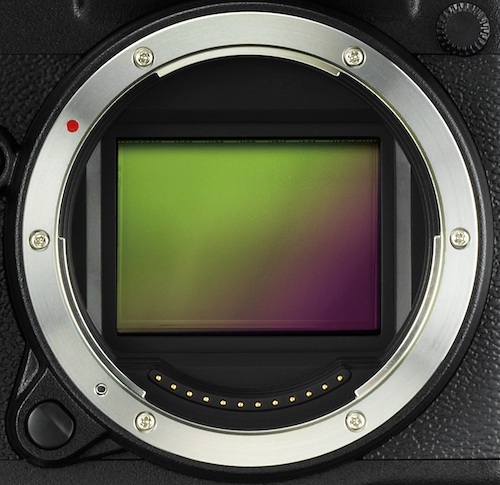 The new GFX 50S uses the brand new G mount which features 12 electronic lens contacts and a short flange back distance of 26.7mm and a minimum back focus distance of 16.7mm.
During the press conference, Fujifilm explained that they chose the mirrorless option to shorten the distance between the rear lens elements and the sensor as much as possible (a mirror solution would have a flange distance of at least 70cm). Such a short flange means two things: they have more versatility when it comes to designing lenses, and the light entering the lens reaches the sensor in a straighter line, reducing vignetting and allowing for more sharpness from edge to edge.
---
Body and handling
The new GFX 50S features a robust weather-resistant body with an SLR-like appearance. It is smaller and lighter than traditional medium format cameras (with the exception of the Hasselblad X1D) because it lacks a mirror box but does make room for a large and comfortable grip.
According to Theo Georghiades (General Manager Electronic Imaging Fujifilm UK) in his interview with Amateur Photographer, Fujifilm's goal with the design of the GFX 50S was to create a camera that wasn't alien to existing X-Series users, and this was done by giving it a familiar appearance and similar controls.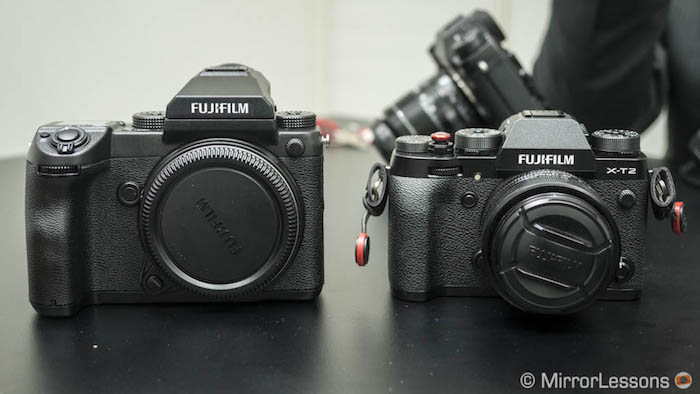 For example, it has two dials on top to control the shutter speed and ISO complete with lock buttons, a focus lever to change the autofocus point on the fly and Dual UHS-II SD card slots. The menu is also very similar to that of the X-T2 and X-Pro2.
Fujifilm X-Photographer Rico Pfirstinger lists some other features in his dedicated article that weren't mentioned during the official presentation such as: 11 customisable function buttons, USB 3.0 data transfer and charging, HDMI loop-through, and microphone/headphone/remote control outputs.
It supports tethered shooting via USB or WiFi, and sports a brand new battery which is larger than those used for the X-Series but still light for this kind of camera.
---
Electronic Viewfinder and LCD Monitor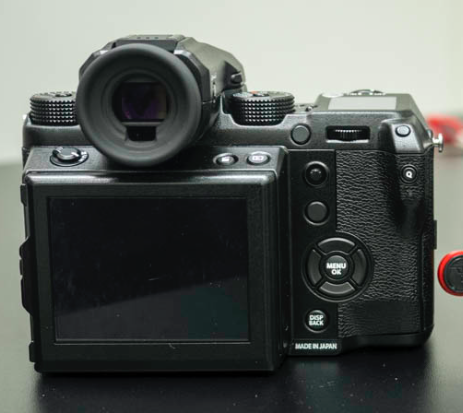 Although the GFX 50S doesn't come with a built-in viewfinder, a separate electronic viewfinder that slots directly into the hot shoe is included in the box. Once attached, you'd never know it wasn't built into the body.
The EVF itself is static but when paired with an optional accessory that must be purchased separately, you can tilt it up or rotate it left and right.
Further EVF specifications weren't revealed at the press conference or during the various interviews but Rico was able to provide a sneak peek of what we can expect: a higher resolution than the one found on the X-T2 (supposedly a 3.69 million dots panel and 0.85x magnification but take these specifications with a grain of salt), a frame rate of around 60fps and a short display lag. What's more, it supposedly comes with a "third ultra-high electronic magnification level" for manual focus work and the addition of RBG colour histograms in the live view.
As for the LCD monitor, it is a 3-way tilting type like that of the X-T2 with the added bonus of touch sensitive according to Rico.
Also included is a low power LCD display panel on the top plate that shows all the main settings.
---
Sensor
The GFX 50S houses a brand new 51.4MP BSI CMOS medium format sensor (43.8 x 32.9mm) that is 1.7x (70%) larger than a 35mm format full-frame sensor and lacks an anti-aliasing filter. According to Toshihisa Iida (General Manager of Sales and Marketing at Fujifilm) in his interview with DPReview, Fujifilm skipped the 35mm format because the gap between 35mm and APS-C is too narrow and they wanted to offer the top resolution.
Regarding the choice of Bayer over X-Trans, Mr. Iida explains that not having X-Trans technology reduces the complexity of signal processing and RAW file conversion, something that Billy of the Fuji Guys also mentioned during our conversation with him. Furthermore, Mr. Georghiades in his interview with Amateur Photographer explains that X-Trans is meant to maximise the resolution from smaller sensors and is less effective for larger sensors.
The new sensor has been in the making for a couple of years and collects four times the amount of light as Fujifilm's APS-C sensor, resulting in a better signal-to-noise ratio and higher dynamic range. It is based on the Sony CMOS sensor with a few "tweaks and improvements concerning the sensor's light collecting ability and efficiency" according to Rico.
It features a native ISO range of 100 to 51200 and although the standard aspect ratio is 4:3, you also have access to many additional options in-camera including 3:2, 1:1, 16:9, 5:4, 7:6 and 65:24. The camera also uses the same X-Processor Pro as the X-T2 and X-Pro2.
A small curiosity: in medium format terms, the GFX sensor is considered a "crop sensor" or if you prefer, the "APS-H of medium format". The crop factor is approximately 1.25x in comparison to the 53.9×40.4mm sensor used by the Hasselblad H6D-100c and the Phase One XF 100MP. The latter is closer in size to 120mm film.
---
Shutter Mechanism
Unlike the Hasselblad X1D which uses lenses with leaf shutter built-in, the Fujifilm GFX 50S sports a built-in focal plane shutter that goes up to 1/4000 of a second. Our impression from the press conference and our brief hands-on was positive: it has a pleasant sound and is very discreet.
Once again, Rico shares some extra information about the shutter in his article. For example, he is sure that we will see both an electronic first curtain shutter and electronic shutter. Shutter shock should be very low and Fujifilm insisted on the latter explaining that they chose the mirrorless option also for this aspect.
The maximum flash sync speed of the camera is 1/125 of a second but compatible flash such as the new Fuji EF-X500 will allow High Speed Sync. Those concerned about the focal-plane shutter for flash work can rest easy, as Rico states that there will be a "range of adapters to connect third-party lenses to the GFX 50S, including leaf shutter lenses for studio and flash work." For example, he cites a possible Hasselblad HC adapter with a leaf shutter, electronic aperture and autofocus support.
---
Autofocus
Very little is known about the autofocus performance at this time, though Rico states that it only supports contrast detection autofocus. He goes on to say that it is quite fast on early prototypes and provides the best results with lenses that feature inner focusing, which so far is only the GF 32-64mm f/4 LM WR.
According to Chris Gampat in his hands-on review, we shouldn't expect very fast performance because it is based on contrast detection and has to move large lens elements.
For now, the only video showing the AF performance was shared by Fujirumors but as you will notice, it is very brief.

---
Video
Hardly anything is known about the video performance of the camera except that it does Full HD at 30fps and doesn't have 4K.
---
GF Lenses
At launch, Fujifilm announced three lenses that will be released alongside the GFX 50S, and three additional lenses that will follow. They are:
GR 63mm f/2.8 R WR: it has an equivalent angle of view of 50mm (35mm format reference) and the depth of field equivalence should be around f/2.2
GF 32-64mm f/4 R LM WR (25-51mm f/3.2)
GF 120mm f/4 Macro R LM OIS WR (95mm f/3.2)
GF 110mm f/2 R LM WR (87mm f/1.6)
GF 23mm f/4 R LM WR (18mm f/3.2)
GF 45mm f/2.8 R WR (35mm f/2.2)
Note: the equivalence data above is an approximation and serves to give you an idea of the equivalent depth of field and angle of view if you are not familiar with medium format lenses.
All six lenses will be weather resistant, will support resolutions as high as 100MP, and will feature a dedicated C position on the aperture ring.
Because the flange back is only 26.7mm and the minimum back focus is just 16.7mm, the rear lens can get even closer to the sensor surface, allowing for the development of smaller lenses.
Rico states in his article that theoretically, G-mount lenses could be adapted to X-series cameras. However there aren't any such plans for now and we personally think it would be impractical. The G lenses are larger and heavier and really meant for smaller bodies like the X-T2.
---
Additional Tidbits
Along with the GFX 50S, a number of optional accessories were announced, including the aforementioned adapter that fits onto the EVF and a Vertical Battery Grip which should enhance functionality when shooting in portrait orientation.
Not only will it be compatible with various RAW conversation application software but it is also likely we will see a range of adapters for third party lenses since, as Rico states, "pretty much every existing medium format or 35mm (D)SLR lens can be physically attached to the GFX 50S" thanks to the short flange-back distance.
---
Price and Availability
The Fujifilm GFX 50S and the first three lenses will hit stores in early 2017. The company's goal is to give it a retail price of less than $10,000 with the EVF and 63mm lens included, making it the most affordable medium format camera on the market to date.
---
Below you can watch our hands-on video with the Fujifilm GFX 50S that gives you a quick summary of the press conference and the GFX!