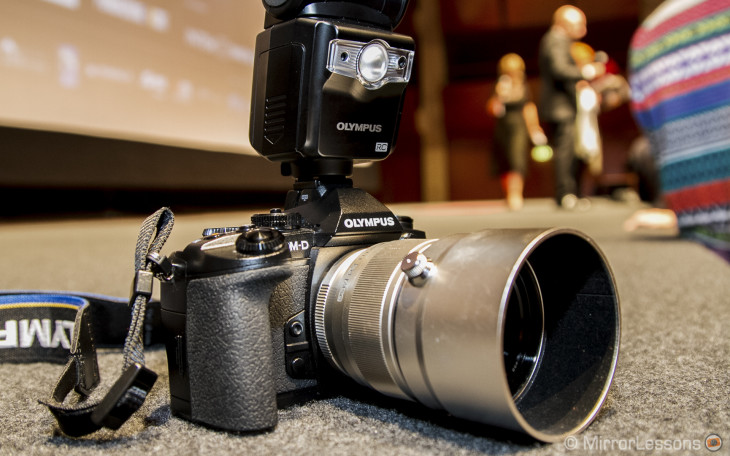 Since becoming more advanced in terms of features and performance, mirrorless cameras have started to attract not only amateurs but also professional photographers. While today some of these systems still aren't complete in comparison to the DSLR competition, they have definitely reached a level where you can use them professionally and obtain great results. There is a sufficient selection of lenses, the newest models are more mature, stronger and faster than the previous models, and all the mirrorless brands seem to be targeting mid/high-end users.
However, not everyone is 100% convinced by this new technology. Recently wedding photographer Vanessa Joy wrote an article on FStoppers where she shared the various reasons she can't use a mirrorless camera professionally. As you can imagine, the article went viral very quickly and generated some animated debates.
If you read Vanessa's article, you will understand that she doesn't really talk about specifications. She does however mention a personal feeling:
…hearing the sound of the mirror slap was part of the joy of photography for me. To take that away from me in a mirrorless camera is taking away a part of the fun for me.
I won't dispute that some photographers can be quite attached to the sound of a specific camera or system. Personally I like the shutter sound of some mirrorless cameras more than others but I don't miss the slapping mirror sound. Actually, not having the latter can be an advantage if your camera features an electronic shutter, because it allows you to shoot in complete silence. But let's not veer off topic.
One sentence that surprised me in her article was the following:
I really think learning to shoot with a mirrorless camera system has a different learning curve than shooting with a DSLR. So much so that there are classes specifically dedicated to learning portraiture with a mirrorless camera.
Personally I find mirrorless cameras easier to use because you get a real-time preview of your exposure, colours or monochrome tone in the EVF or LCD. The only thing you might need to learn is how to deactivate the real-time exposure preview when using strobes in a studio but it's a matter of finding the correct settings in the menu. Everything else is related to light and post-processing, and maybe a few camera-specific settings (for example EyeAF on Sony models).
I am sure that dedicated workshops can impart lots of great tips and advice about some of the technology you'll find on mirrorless cameras but in my personal experience, when I started to shoot with a mirrorless camera, I didn't encounter any particular learning curve except that of trying to get to know the ins and outs of the new model and system.
Then Vanessa touches upon a subject that has been written about many times: perception, or the fear of not looking professional enough if you show up in front of your client with a small camera.
Having a less-than-professional looking camera is the last thing I want, especially when side-by-side with guests who so often bring their own (D)SLRs. It's going to make me appear less credible as a photographer and potentially cause my client confidence to drop.
Before continuing further, let me write a quick introduction about my background. My name is Mathieu Gasquet and you probably know me because of my reviews and articles on MirrorLessons. You might not know that when I started to review cameras, I was also a working photographer dealing mainly with events, weddings and corporate work. I started to use the Olympus OM-D E-M5, then the E-M1. I occasionally used other mirrorless cameras as well, such as the fixed-lens Fujifilm X100 series and the Sony A7s.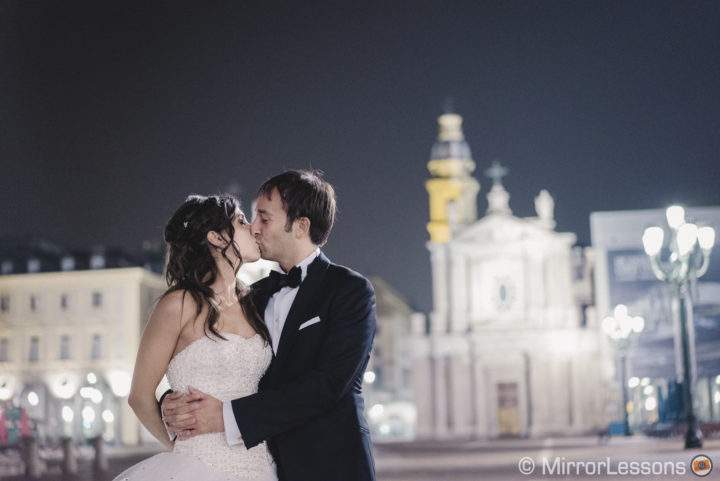 At the beginning I had the same feeling, but I decided to give it a go because I thought that creating images and satisfying my client's demands was more important. I liked working with smaller and more discreet cameras. I learned that what I used didn't impact my relationships with my clients. I received a few questions but more out of curiosity rather than concern. Some of the best compliments I received were about the jobs done with my OM-D E-M1 for example. And no, they didn't ask me the name of the camera!
But that is my experience, and not every photographer works in the same kind of environment. Vanessa explains that she deals with luxury weddings:
For me, branding is a huge part of why I'm successful in my business, and much of that has to do with my perceived value. I charge a premium for my clients to hire me to come shoot their luxury weddings. In some level, if I show up with a little, mirrorless camera, I feel like I'm not meeting their expectations… I feel that my equipment and I should in a way match the grandeur of the event.
Vanessa is right about one thing: branding is important. The way you appear shouldn't be underestimated: it's part of your work and it's part of how a client will perceive you. It can even be one of the reasons he or she trusts you (or not). It might not be essential in all scenarios but it can definitely have an impact.
I've never worked at luxury weddings but I had the chance to attend a few as a guest. I can imagine that appearance is very important if you are going to spend a huge amount of money and spare no expense for the venue, dress, car and all the details that will reflect the importance of the occasion. Can a smaller camera have a negative impact on such grandiose events? Maybe – it would be wrong of me to state the contrary without having enough experience in that particular field.
In the last part of the article, Vanessa mentions a colleague (Migues Quiles) who uses the Sony A7rII. She explains how seeing the smaller camera being used for her personal portrait convinced her it wasn't the right tool for her work:
While he was doing an amazing job and certainly knows what he's doing with posing and lighting and getting expression, I couldn't help but be on the other side of that itty bitty camera thinking, "Oh my gosh, how cute." "Oh my gosh, how cute," is the last thing I want my clients to feel on the other side of my camera.
A small joke here could be: ask Miguel to use some Sony G Master lenses next time and you will see that the size isn't that different in the end!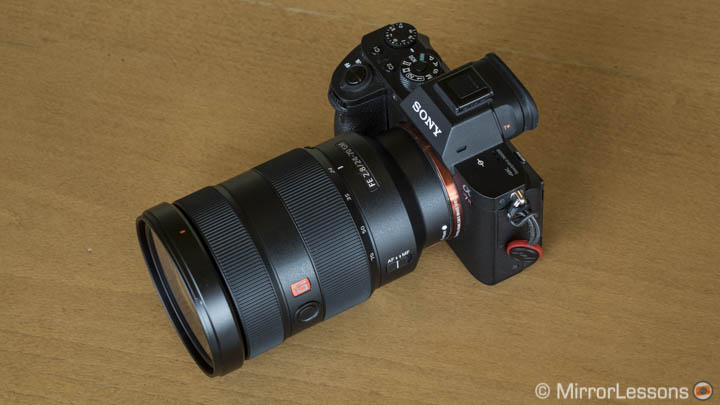 Okay, seriously, I think the most important quote to include is the final one:
It's a personal business decision for me; I don't think I'm ever going to be able to use a mirrorless system for professional use.
Personal and business are the two most important words to take away from this in my opinion. You should never make a decision that you aren't comfortable with unless you have no other choice. Obviously Vanessa likes the gear she uses (Canon 1DX) and it works for her. I don't see any reason she should want to switch systems in the first place. Probably, like many of us, she was attracted by the dimensions but using a mirrorless camera today is not mandatory. I've been asked advice about switching from DSLRs to mirrorless many times and sometimes I didn't hesitated to say that a DSLR was the better choice for that person.
The other side of the story, however, is that mirrorless cameras are now capable of taking on professional work. My advice to her or to anyone who might be dealing with the same dilemma is: start to use one as a second body, and familiarise yourself with it not just for the holidays or travel but also out in the field (where the pressure is different). You may dislike it or you may see a benefit. I know photographers who used two systems for quite some time before deciding to switch or stay with their old system.
The environment and the type of work you do is also very important. While mirrorless cameras have some advantages, DSLRs have others such as a vaster selection of lenses (including affordable options from third parties), Pro support and better performance for action and sports (although mirrorless technology is progressing quickly). Specifications and trends aside, the most important thing is to use what you are more comfortable with.
As a final note, this article was written with the sole intent of sharing my two cents on the topic. I respect Vanessa Joy's opinion and you can visit her website here.