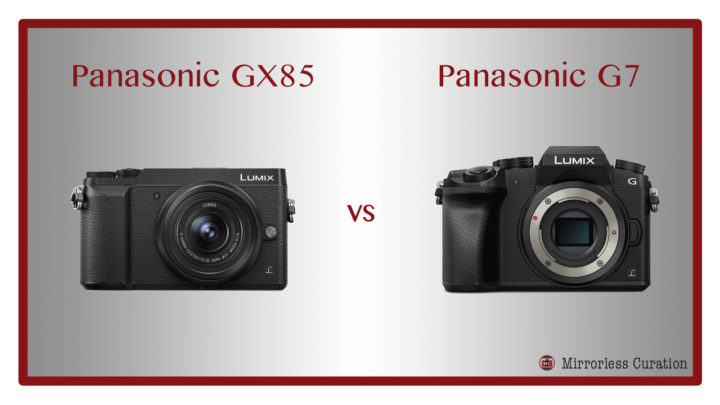 Within the Panasonic Lumix range, there are a number of different interchangeable lens models with varying designations. In fact, there are so many that deciphering the differences can often be a challenge for potential users.
On one hand, we have the SLR-styled family comprising the affordable G range and the high-end GH range whose latest iteration is always dubbed the "flagship" Lumix camera. On the other, there is the rangefinder family, consisting of the mid-range GX series (which actually includes one high-end model), two ultra-compact GM models, and a profusion of entry-level GF models.
Today, we'll be comparing two Lumix models with a similar price point: the GX85* from the "rangefinder" family, and the G7 from the "SLR" family.
Although the two cameras have much in common, including a 16MP Micro Four Thirds sensor, Panasonic's Depth from Defocus contrast detection autofocus system, 4K video at 30fps, 4K Photo features, and Live View up to 6fps continuous shooting, there are a few key differences that set them apart. Let's have a look at them now!
Note: This is a comparison preview, not a complete comparison between the two models. If we get the chance to use both cameras at the same time for an extended period, we will perform an in-depth comparison on our primary review website, MirrorLessons.
*The GX85 is known as the GX80 in Europe and the GX7 II in Asia. 
---
Ethics statement: The following is based upon official specifications and our personal experience with Lumix cameras. We were not asked to write anything about these cameras, nor were we provided with any sort of compensation. Within the article, there are affiliate links. If you decided to buy something after clicking the link, we will receive a small commission. To know more about our ethics, you can visit our full disclosure page. Thank you!
---
1. Rangefinder vs. SLR body
The first difference is also the most physically obvious. While the GX85 has a distinctly rangefinder-esque design with the electronic viewfinder (EVF) located on the left-hand side, the G7 has been designed to look and feel like an SLR.
The fact that the G7 has an SLR-like body means that it is also more ergonomic than the GX85. It has a more prominent grip and a centrally positioned viewfinder inside a fake pentaprism. The slightly larger body also makes room for more physical function buttons (6 in total versus the 4 of the GX85).
---
2. Tilting vs. free-angle LCD monitor
Continuing with the physical characteristics of the two cameras, you'll soon notice that while the two cameras have the same 3-inch 1040K-dot LCD monitor with touch control, they articulate in a different manner.
The GX85's monitor only tilts up 90 degrees and down 45 degrees, whereas the G7's monitor is free-angle, meaning that you can swivel it in all directions. The latter is very well-suited to video work because you can keep an eye on your frame regardless of where you stand.
---
3. LCD vs. OLED electronic viewfinder
One small disappointment about the GX85 is that it was given the very same electronic viewfinder as that of the GX7, which was released around three years ago. It has a 16:9 shape with 2764K-dots of resolution, a magnification factor of 0.70x and field sequential technology.
By contrast, the G7 has an OLED panel with a 4:3 shape, 2360K-dots of resolution and 0.70x magnification.
Even though the GX85's LCD panel has more resolution than the OLED screen of the G7, it doesn't appear quite as bright or detailed in use. Based on a field sequential technology panel, it has the equivalent resolution of 2,765k dots, which is actually a native resolution of around 922k dots.
What's more, since the viewfinder is 16:9 in size, the size of the image within the finder is reduced when shooting at the camera's native aspect ratio of 4:3. This isn't a problem for video, as movies are generally shot with the 16:9 aspect ratio, but it can be a bother for stills.
---
4. 5 Axis Dual I.S. for stills
Perhaps the most significant difference between these two cameras concerns their approach to image stabilisation.
The GX85 is the first Lumix camera to feature 5-axis in-body stabilisation. Since the stabilisation is sensor-based, you can use any lens – autofocus or manual – and take sharp shots at very slow shutter speeds with this camera.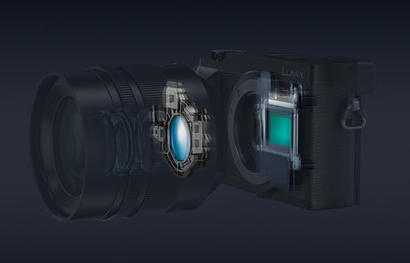 What's more, when combined with the optical stabilisation (OIS) of select Lumix G lenses, you can take advantage of a new technology called Dual I.S. First introduced on the GX8, Dual I.S. combines sensor and optical stabilisation to give you roughly four or five stops of compensation depending on how steady you are. For example, the slowest shutter speed we managed with the Lumix G 35-100mm f/2.8 at 100mm was 0.8s second, which is pretty incredible if you think that 100mm equates to 200mm in full-frame terms!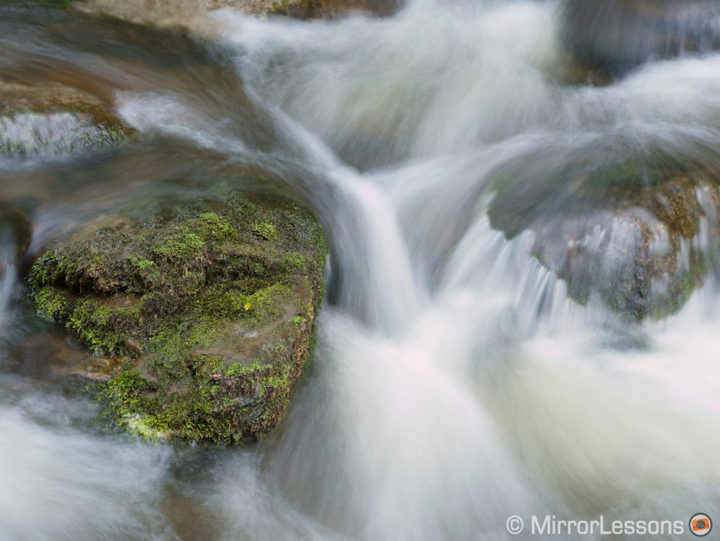 Happily, 5-axis Dual I.S. works for both stills and video. For video, however, you need to be aware that you may encounter some distortion, rolling shutter and "jerky" movements whilst moving with the camera. For these reasons, it is more effective for static video shots.
Below you can see a video that compares the GX85's stabilisation for video with the Olympus Pen F.
The G7 is part of the previous generation of Lumix cameras that lacks all in-body stabilisation. To stabilise your images and video footage, you must rely on the optical stabilisation of OIS compatible Lumix G lenses. Although it isn't as effective as 5-axis Dual I.S., the results are good enough for most purposes.
---
5. Shutter mechanism
Mechanical shutter shock is an issue on many Micro Four Thirds mirrorless cameras, affecting shutter speeds between 1/60s and 1/320s. Though we never found it to be as bad as on the GX8, the G7 does suffer to some extent. One way to eliminate shutter shock is to use the electronic shutter which goes up to 1/16,000s.
The GX85 is the first Lumix camera to feature Panasonic's newly designed shutter unit with an an electromagnetic drive. It reduces shutter shock by 90% and in our tests, it worked very well. Of course, it too comes with an electronic shutter that goes up to 1/16,000s.
In the short video below, you can hear the sound of the GX85's new shutter mechanism.
---
6. Anti-aliasing filter
Both the GX85 and G7 have the same 16MP Micro Four Thirds sensor with one small difference: the GX85 lacks an anti-aliasing (low-pass) filter. The job of the low-pass filter is to suppress moire artefacts found in repetitive details, such as lines on clothing or strands of straight hair, by blurring what reaches the sensor. However, this results in a loss of very fine details.
According to Panasonic, the removal of the low-pass filter has allowed for boost in resolving power of about 10% compared to previous 16MP Micro Four Thirds sensors, including that used for the G7. In practice, the difference is barely noticeable, so if you're worried about sharpness and resolution, my suggestion is to focus less on the sensor and more on investing in quality lenses!
---
7. Drive mode dial
As insignificant as a drive mode dial may seem in the grand scheme of things, I actually find it very useful on the G7. It gives you quick access to single shot, continuous shooting, self-timer and time-lapse and 4K Photo, effectively keeping you out of the menu and focused on shooting.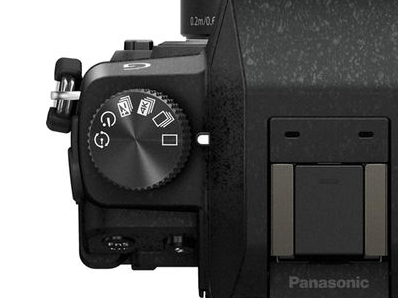 Since the body is smaller, the drive mode dial has been removed from the GX85. To access these modes, you must do one of: assign them to a function button, add them to the custom Q menu or enter the main camera menu.
---
8. Light Composition / Post Focus / 4K Live Crop
Light Composition is a new feature found on the GX85, as well as the ZS80 and ZS100 compact cameras. It layers several 4K images, adding bright pixels only as they appear in the composition. This makes it useful for light painting, fireworks, star trails or any other kind of image where you want to add new light without overexposing the elements you've already captured. However, the resulting image is an 8MP out-of-camera JPG, so there isn't much room for post-production.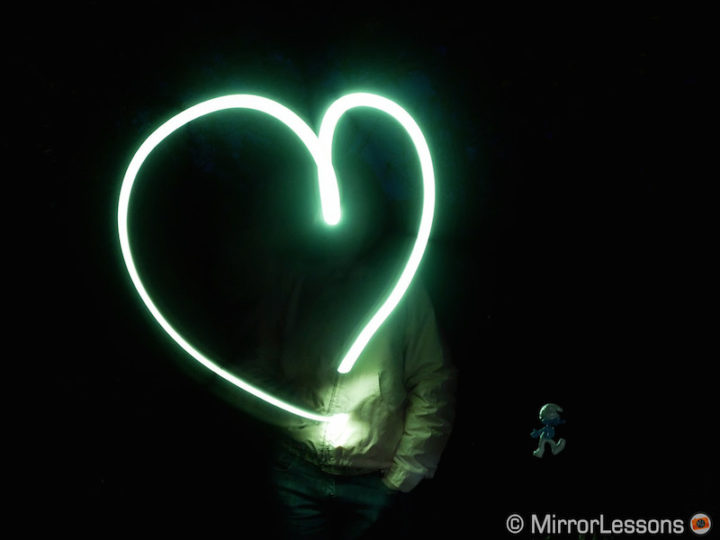 Since the G7 has 4K capabilities, I don't see why it shouldn't receive Light Composition via firmware update in the future.
Two more interesting 4K features are Post Focus and 4K Live Crop.
The former enables you to pick your focus point after you've shot the image, making it very useful for close-ups and macro where the even the slightest movement can alter your focus point.
The latter is a video feature that allows you to digitally pan and zoom in-camera by setting a start and end point on the monitor. The result is a Full HD video cropped from 4K. You can see an example of how 4K Live Crop works in the video below.
Post Focus came to the G7 via firmware update in late 2015 and is natively available on the GX85, while 4K Live Crop is only available on the GX85 at the time of publishing.
---
9. Focus / Aperture bracketing
In addition to exposure and white balance bracketing, the GX85 also comes with focus and aperture bracketing, both of which are lacking on the G7.
Focus bracketing is useful for macro photography as it lets you take a series of images with slightly different focus points. You can later stack these images in Photoshop or a similar program to create a much deeper depth of field. With the GX85, you can take up to 999 shots at focus steps of up to 5.
Aperture bracketing travels through the apertures of your lens, taking 3, 5 or a complete series of shots (All) at a difference of 1EV. For example, if you own a lens with an aperture range of f/2 to f/22 and set it to f/5.6, the camera will take shots at:
f/4, f/5.6, and f/8 if set to 3
f/2.8, f/4, f/5.6, f/8, and f/11 if set to 5
f/2, f/2.8, f/4, f/5.6, f/8, f/11, f/16, and f/22 if set to All
---
10. Price
The least of our worries is the difference in price. The GX85, being a newer model with more features, costs about $100 more than the G7, at $800 with the kit lens. However, it is possible to find the older G7 for less these days if you are happy to settle for a second-hand model.
---
Conclusion
Both the Panasonic Lumix GX85 and G7 are excellent cameras that can easily fulfil the needs of still and video shooters. Since the image quality is more or less identical, your choice will mostly depend upon the extra features they have to offer.
If you like the idea of an SLR-like body with a comfortable grip and a swivelling screen for video work, go with the G7. If you prefer the smaller form factor of a rangefinder body or think you'll be doing lots of hand-held work in poor light, then the GX85 is your best bet.
Check price of Panasonic GX85 at B&H Photo  |  Check price of Panasonic G7 at B&H Photo
To find out more about these two cameras, we suggest reading the following reviews: