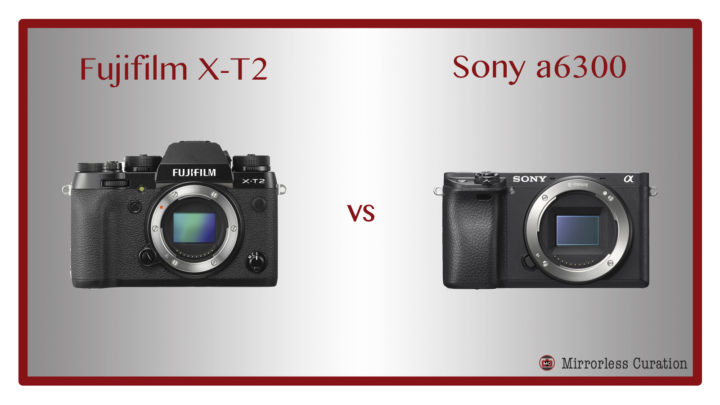 Ask anyone in the know which are the two most powerful mirrorless APS-C cameras on the market today, and they'll undoubtably name the new Fujifilm X-T2 and the ever-popular Sony a6300.
The a6300 was released earlier on this year and is widely known as the mirrorless camera with the highest number of phase detection points. The X-T2 was announced only a couple of days ago, and is easily the most complete Fujifilm camera to date in terms of features and performance.
Since these two models possess many similar characteristics, including a 24MP APS-C sensor with excellent dynamic range and a maximum ISO of 51200, hybrid autofocus and 4K video capabilities, we've decided to make a list that details all the key differences to make your choice a little easier.
---
Ethics statement: The following is based upon official specifications and our personal experience with Fujifilm and Sony cameras. We were not asked to write anything about these cameras, nor were we provided with any sort of compensation. Within the article, there are affiliate links. If you decided to buy something after clicking the link, we will receive a small commission. To know more about our ethics, you can visit our full disclosure page. Thank you!
---
1. SLR vs. Rangefinder Body
The first and most obvious difference can be found in the physical appearance of the two cameras.
The X-T2 has an SLR-like design with the electronic viewfinder placed at the centre. It is both larger and heavier with measurements of 132.5mm x 91.8mm x 49.2mm and a weight of 507g.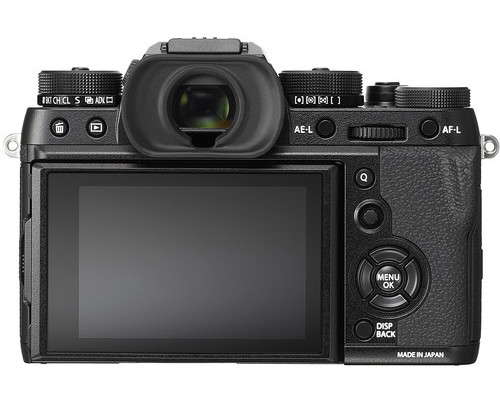 The a6300 weighs only 404g and measures 120 x 66.9 x 48.8mm. It features a rangefinder type body with the electronic viewfinder placed to the left.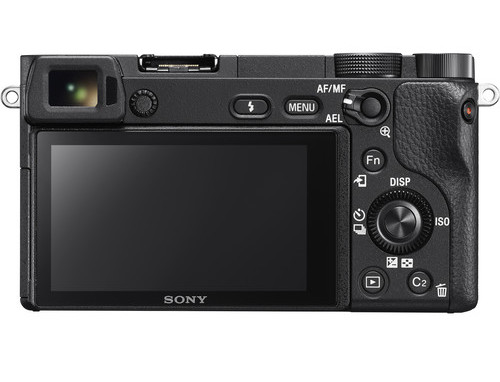 The a6300 is dust and moisture resistant while the X-T2 is completely weather sealed including freeze resistance down to -10°C. Both bodies feature a fairly prominent grip and can be charged via USB. Only the a6300 has a built-in pop-up flash.
---
2. Hybrid autofocus system
The X-T2 has a hybrid autofocus system with 325 autofocus points and 91 phase detection points that cover 40% of the sensor area at the centre (with certain settings the phase detection points can be subdivided into 169 points). It comes with a new AF-C Custom Settings menu that allows you to customise the speed and reactivity of the AF as well as the zone of the image to which it should give priority, depending on your subject's movements and speed. It also has a handy AF joystick to change the AF point on the fly.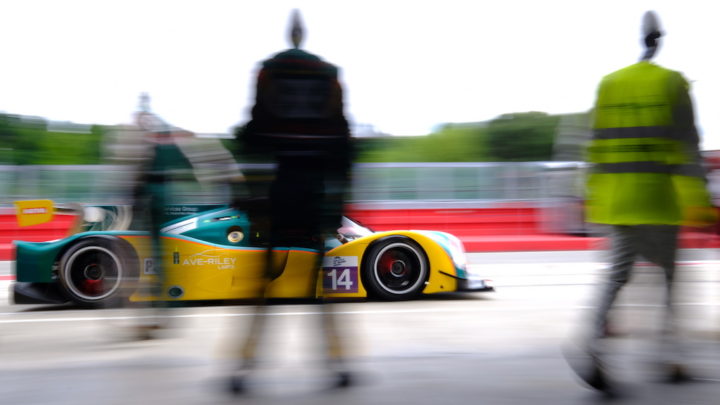 The a6300, by contrast, has 425 phase detection and 169 contrast detection points across the entire surface of the sensor. It utilises an advanced 4D FOCUS™ hybrid autofocus system and high-density tracking AF that activates a large number points around a subject to track it more effectively. To change the AF point, you have to use the four buttons on the control wheel.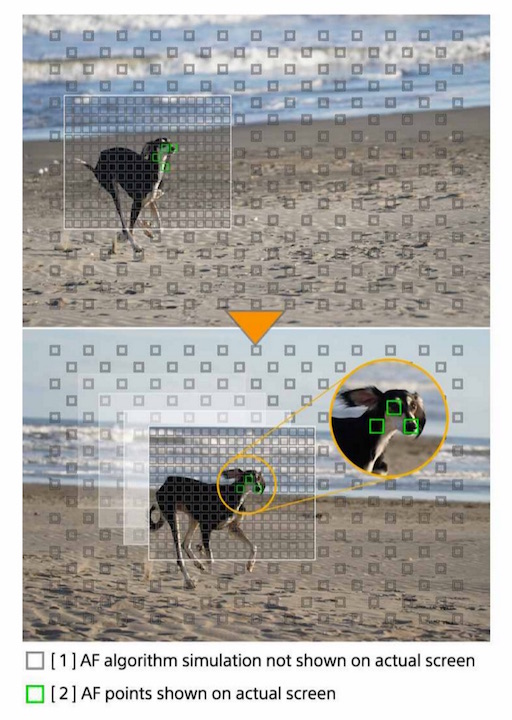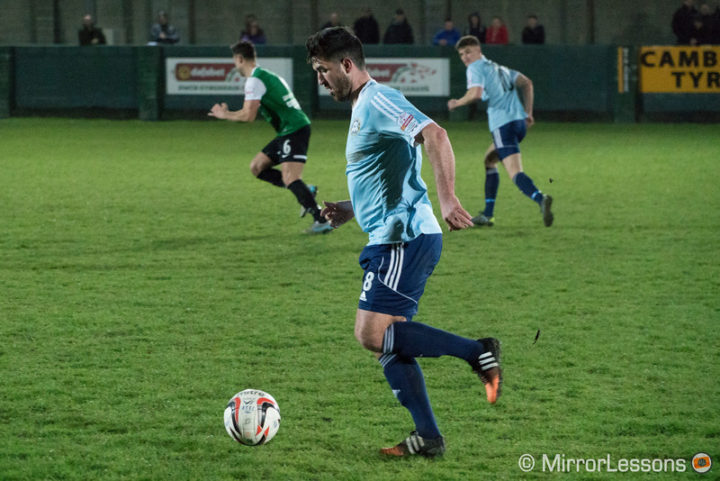 Both cameras can shoot up to 11fps – the a6300 natively and the X-T2 with the vertical battery grip – but the X-T2 has a faster mechanical shutter speed of 1/8000 and a much faster electronic shutter speed of 1/32000. The mechanical and electronic shutter speeds of the a6300 are limited to 1/4000.
Although the a6300 has more phase detection pixels, there is unlikely to be a massive difference in performance between the two cameras in practice. Indeed, in our experiments with the a6300 and X-Pro2, we found that both did an excellent job of tracking subjects regardless of their movements or the light conditions for both stills and video. Of course, this can only be tested in-depth once we have the two cameras side-by-side.
---
3. Colour Profiles
Ever since the days of film, Fujifilm has been a leader in the fields of colour accuracy and colour reproduction. When the X-series came out, the brand put that vast experience to use by producing a set of very popular digital colour profiles called Film Simulation Modes.
These modes differ from the traditional colour profiles you'll find on most digital cameras in that they attempt to replicate the contrast and saturation of Fujifilm film stock from the past. For example, Provia was inspired by the popular E-6 slide film of the same name, while the two PRO Neg modes are based on 160NS negative print film.
The a6300 also has its own set of picture profiles called Creative Styles but they are more generic and "digital" in appearance. Because of this, it is more likely you'll end up working with the RAW file to achieve your desired look.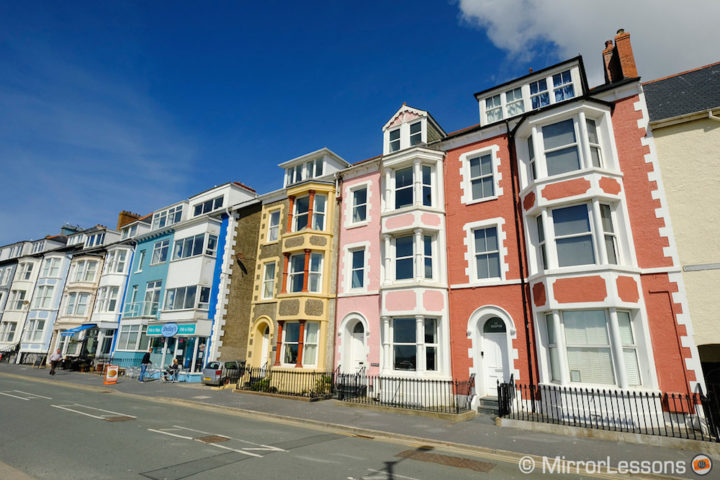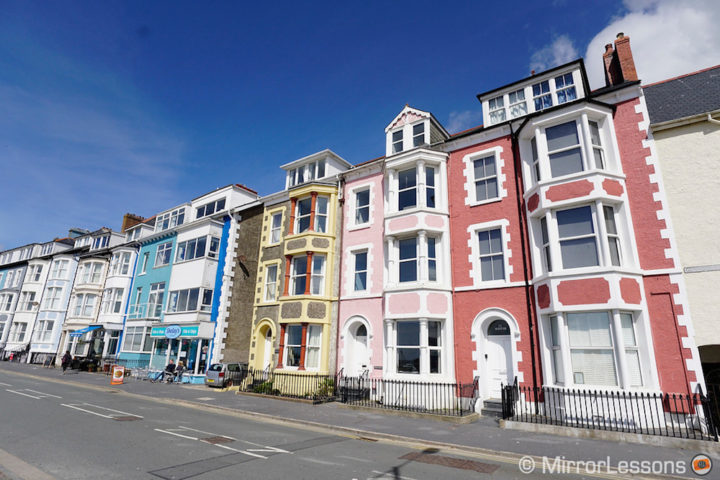 As with all colour profiles, they affect the in-camera JPGs, not the RAW files. However, it is worth noting that you can reproduce the look of Fujifilm's film simulation modes in Adobe Lightroom with its set of dedicated profiles produced in collaboration with Fujifilm.
The X-T2 also has an excellent set of monochrome profiles including Acros which was introduced on the X-Pro2. The performance is also excellent at high ISOs thanks to the finer noise produced in comparison to the a6300.
---
4. Live View and refresh rate of the EVF / LCD
Both cameras come with the option of a Live View on the LCD and EVF while shooting a continuous burst of shots. What this means is that the camera shows you a real-time preview of your scene rather than showing you a playback of the last image in a burst. Live View makes it easier to follow a moving subject, especially if it is moving erratically.
On the a6300, you can shoot bursts of up to 11fps in C-AF but Live View is only accessible up to 8fps. The X-T2 can shoot up to 8fps (11fps with the vertical battery grip) but Live View is only available up to 5fps.
The X-T2 EVF can have a refresh rate of up to 100fps with the Boost mode or 60fps in standard mode. On the a6300 you can choose between 50fps and 100fps (PAL mode) or 60fps and 120fps (NTSC) mode.
---
5. Video Capabilities
Fujifilm has made its first foray into the world of 4K video with the X-T2. In addition to supporting 4K at 24, 25 and 30fps with a 100Mbps data rate and Full HD up to 60fps (100Mbps as well), it comes with a flat F-Log Gamma profile that you can grade in post-production. (Note that it is only available via the HDMI output. This means you will need an external recorder to take advantage of the F-Log gamma.) The aforementioned Film Simulation Modes can also be applied to video in-camera.
Although the recording time in 4K tops out at 10 minutes (15 minutes in Full HD), the vertical battery grip in 'boost' mode extends this to 30 minutes. For 4K video, the camera performs a 1.17x crop, reducing the field of view.
Below you can find our 4K video compilation taken with the X-T2:
The a6300's 4K capabilities are nearly identical to those of the X-T2 with a few significant differences. First, instead of cropping the sensor, it offers full pixel readout at a native resolution of 6K which means that the field of view doesn't change. This footage is then down-sampled to UHD. Second, you have the option of 120fps slow motion in Full HD. Third, the maximum recording time is 30 minutes with the body alone in either 4K or Full HD (including 120fps). And finally, there are more picture profiles (nine in total) designed specifically for video that include in-depth settings such as black gamma, knee and colour depth. The profiles also include colour modes, gamma modes and S-log2 / S-log3 to record the widest dynamic range possible. These specific video profile settings are taken from Sony's CineAlta cinema camcorders.
The only downside to the a6300's video capabilities is that the body has the tendency to overheat after 15-20 minutes of continuous shooting. It is still unknown whether the X-T2 has a similar issue, though its form factor should allow for better heat dissipation.
Below you can find a 4K compilation video and 120fps video taken with the a6300:
Both cameras offer clean HDMI output at an 8-bit 4:2:2 colour space and come with a 3.5mm microphone jack. Neither has a headphone jack but this can be resolved by purchasing the vertical battery grip for the X-T2 or Sony's UWP D11 Wireless Mic Kit for the a6300.
---
6. 2-Way vs. 3-Way Tilting Screen
Both the X-T2 and a6300 have a tilting screen that swivels up 90 degrees and down 45 degrees. Articulating screens are useful because they allow you to keep an eye on your composition even in uncomfortable shooting positions.
The advantage of the X-T2 is that its screen also tilts 45 degrees to the side. This means that you can still see the screen when you are shooting at a low or high angle in portrait orientation.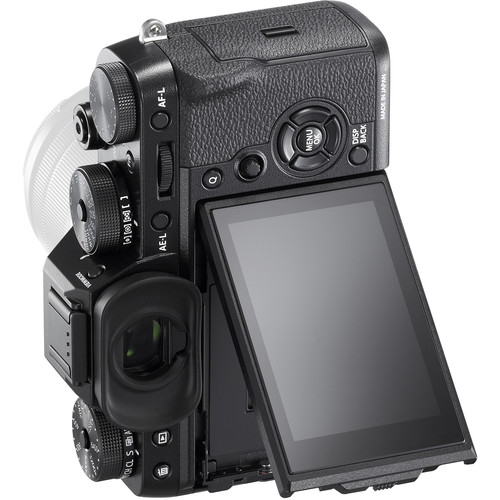 Sadly, neither comes with touch functionalities even though we know, thanks to the Fujifilm X70 and Sony a5100, that both companies are capable of implementing this technology.
---
7. Single vs. Dual Memory Card Slot
After the Leica SL and Fujifilm X-Pro2 released earlier on this year, the X-T2 becomes the third mirrorless camera to come with a Dual SD card slot. Since memory cards sometimes fail, it is very important for professional photographers, especially those who shoot one-off events like weddings or concerts, to have a back-up of their images on a second card.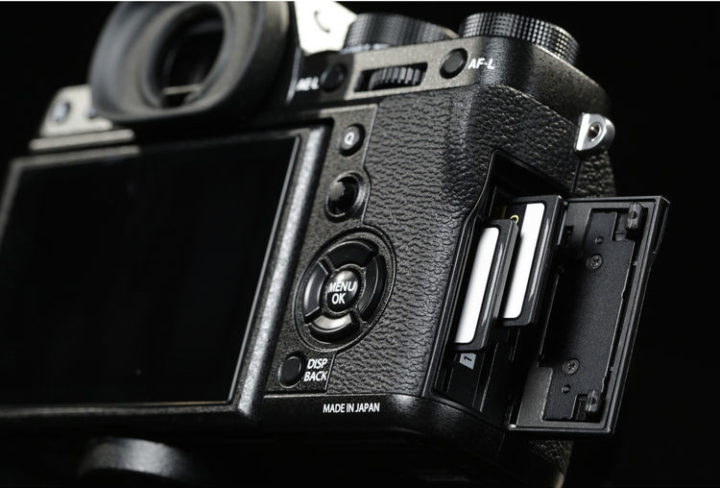 Both slots accept UHD-II memory cards for fast read-write speeds and can do one of: a) record RAW and JPG files to separate cards, b) record the same files to both cards to create a back-up, or c) continuously record to the second card once the first is full.
The a6300 only comes with one UHS-I memory card slot, so some professionals might consider it less reliable for very important assignments.
---
8. External Controls
Fujifilm cameras are known for their resemblance to film cameras because of the many external dials and buttons placed around the body. In the case of the X-T2, you have all the following: a shutter speed dial, ISO dial, exposure compensation dial, front and rear control dials, drive dial, metering dial, AF joystick, six custom function buttons, and aperture ring around most XF lenses. Having these external controls allows you to avoid entering the menu too frequently and immerse yourself in the shooting experience.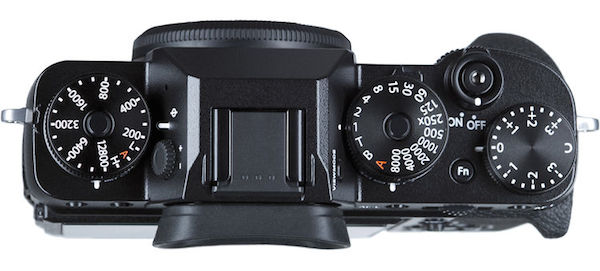 The a6300, being smaller, has fewer external controls. In fact, the only dials you'll find are the PSAM dial, control dial, and rear control wheel. The last two are used to adjust shutter speed and aperture. However, you do get nine custom function buttons which makes up somewhat for the lack of external controls.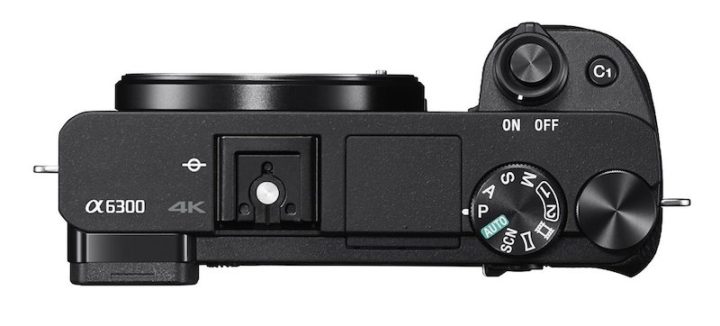 ---
9. Menu System
Unlike the a6300's menu system, which is on the complex side due to cryptic naming and the sometimes illogical categorisation of features, the X-T2's menu is the same as that of the X-Pro2 and has been much improved compared to the old Fuji menu system. The interface is now clearly divided into logical sections, so that when you do have to enter the menu, you can quickly and easily access the settings you need.
The fact that Fujifilm was able to improve its menu system in time for the release of the X-Pro2 and X-T2 is living proof that Sony could, and should, do the same with its future E-mount cameras.
---
10. Price
Finally, we come to the price, which could be the most influential factor of all. At the time of release, the a6300 body was priced at $1000 (or $1150 with the 16-50mm kit lens), which is an amazing deal considering the number of features Sony has packed into such a small body. You can now find it for slightly cheaper second-hand.
The X-T2 body, on the other hand, costs about $600 more than the a6300 body, and around $750 more if you throw in the 18-55mm kit lens. Plus, if you want to take advantage of features such as 11fps burst shooting and 30 minutes of 4K video, both of which are natively available on the a6300,  you have to shell out an extra $329 for the vertical battery grip. It is worth noting that the grip houses two batteries and can also be used as a battery charger.
For the a6300, there is a third party battery grip from Meike. It is significantly cheaper, can house 2 batteries as well, and comes with a remote to control the camera wirelessly.
---
Conclusion
As always, it will be necessary to carry out a complete in-depth comparison to discover which of these two cameras is the better purchase. Our plan is to publish one within the next few months on our primary review website, MirrorLessons.
Having owned and used the a6300 for an extensive period, I cannot help but be impressed by what Sony has achieved in such a short period of time. In what is essentially a pocketable body, you get 4K video at 30fps, 120fps slow motion in Full HD, the most advanced hybrid autofocus system around, 11fps burst shooting, a built-in EVF with Live View up to 8fps, and much more, all at a very affordable price.
On the other hand, there is no ignoring the significant improvements Fujifilm has made to its latest bodies, not only in terms of autofocus and video performance but also its incredible lens catalog which has grown to include 25 native lenses in just four years. It has become a system professionals can count on, which is why more and more are switching over every year.
Fujifilm X-T2 at B&H Photo  |  Sony a6300 at B&H Photo
To find out more about these two cameras, we suggest reading the following reviews: