In comparison to three or four years ago when the mirrorless concept was still very much a novelty, there are now dozens of mirrorless cameras on the market designed to meet the needs of various skill levels.
While many of the newest mirrorless cameras cost in excess of $1000 for the body alone, it is possible to find some for less than $500 with the kit lens included. These models tend to be a) entry-level products or b) discontinued mid-to-high end models that have been replaced by more advanced iterations.
Below you can find a helpful list of what we feel are the ten best mirrorless cameras you can find for less than $500 as of late 2016. Our choices are based on our direct experience with these cameras or with the brand in general.
---
Ethics statement: We were not asked to write anything about the cameras on this list, nor were we provided any other compensation of any kind. All opinions we express regarding the cameras are our own. Within the article, there are affiliate links. If you buy something after clicking the link, we will receive a small commission. To know more about our ethics, you can visit our full disclosure page. Thank you!
---
1. Sony NEX 6 with 16-50mm kit lens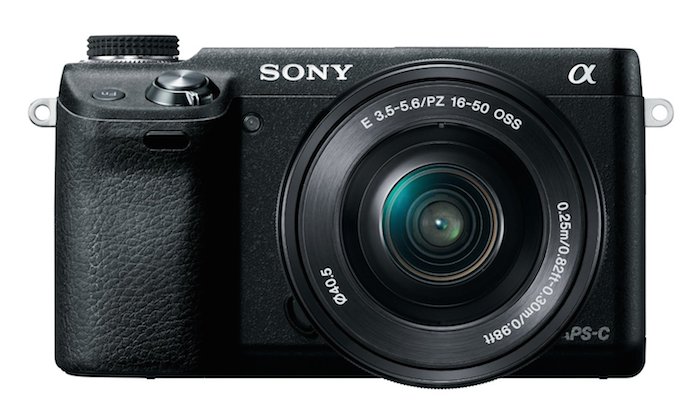 The very first model I would recommend to anyone just entering the mirrorless world is also one of the oldest on this list. The Sony NEX 6 was far ahead of its time upon its release in 2012, incorporating features that wouldn't appear on other mirrorless bodies for another couple of years such as a built-in OLED electronic viewfinder, hybrid contrast and phase detection autofocus, and 10fps continuous shooting.
It is very light and compact with a good grip, and features an APS-C sized sensor with a very respectable 16MP of resolution, Full HD recording at 60p/60i/24p and a 3-inch articulating LCD screen.
There are only a couple of drawback to the NEX 6. First, being a discontinued model, it can only be bought second-hand. Second, the lens selection for Sony's APS-C E-mount range isn't as rich as those of other brands such as Olympus, Panasonic or Fujifilm.
Check price of Sony NEX 6 on eBay
---
2. Olympus OM-D E-M5 with 14-42mm kit lens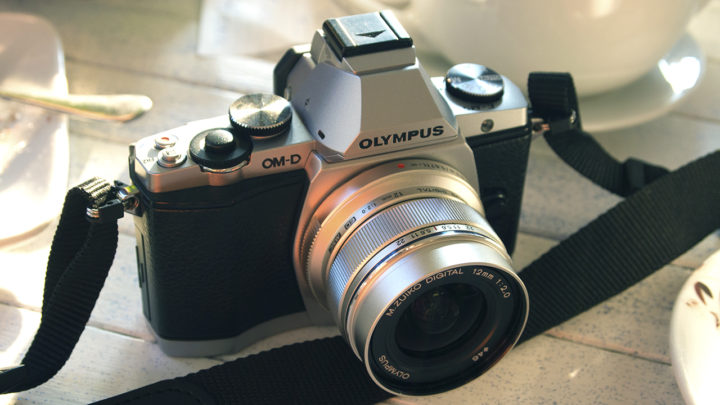 The Olympus OM-D E-M5 was the first mirrorless camera we ever bought and was the reason we started writing about mirrorless technology in the first place.
It comes with loads of features that make this camera a relevant choice even today: a 16MP Micro Four Thirds sensor, a tilting touchscreen, a weather-sealed body, 9fps continuous shooting, and a built-in electronic viewfinder.
Most importantly, it was the first mirrorless camera to sport 5-axis in-body stabilisation, making it possible to stabilise your images at slow shutter speeds even without a stabilised lens.
Unlike the Sony APS-C range, there are over 50 different lenses within the Micro Four Thirds ecosystem and more are being produced every year.
Check price of Olympus OM-D E-M5 on eBay
---
3. Olympus Pen E-PL7 with 14-42mm kit lens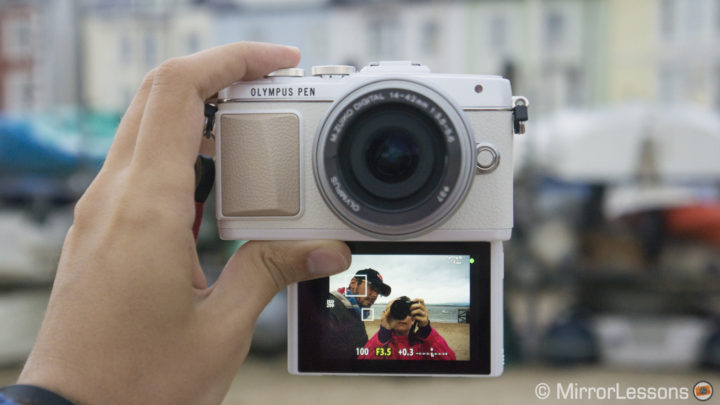 If you are a follower of fashion and lifestyle blogs, you will probably have heard of the Olympus Pen E-PL7.
Although it has been marketed as the ultimate fashion blogger's selfie camera, it is also a very powerful image-making machine, incorporating many characteristics found on Olympus' mid-to-high end models. These include a 16MP Micro Four Thirds sensor, 3-axis in-body stabilisation to avoid motion blur, a tilting touchscreen that flips up 180 degrees for selfie shooting, 8fps continuous shooting and WiFi connectivity. It even comes with our favourite extra feature, Live Composite, which lets you easily create star trails and light paintings in camera.
In addition to being one of the most physically attractive cameras on this list, the Pen E-PL7 is compatible with all Micro Four Thirds lenses, just like the OM-D E-M5 mentioned above.
Unfortunately, the E-PL7 lacks a built-in electronic viewfinder, though there is a hot shoe to which you can attach an external viewfinder such as the excellent Olympus VF-4.
Check price of Olympus Pen E-PL7 on eBay / B&H Photo
---
4. Olympus OM-D E-M10 with 14-42mm kit lens
The Olympus OM-D E-M10 is a little older than the Pen E-PL7 and aside from the design, the two models are quite literally "two peas in a pod" in terms of their technical specifications.
The biggest difference is the presence of a built-in electronic viewfinder on the E-M10, which allows you to follow subjects and compose with greater ease, especially in difficult light situations. It also benefits from a built-in pop-up flash which the E-PL7 lacks. However, the touchscreen isn't quite as versatile, tilting up just 80 degrees instead of 180.
Check price of Olympus OM-D E-M10 on eBay
---
5. Panasonic Lumix GF7 with 12-32mm kit lens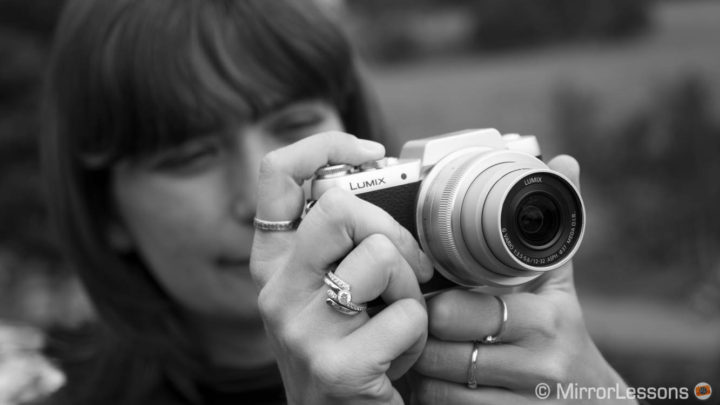 The stylish little Lumix GF7 is one of the most compact cameras on this list, easily fitting inside a jacket pocket as long as you use a small lens. Like the Olympus cameras above, it too uses a 16MP Micro Four Thirds sensor and is compatible with the same range of lenses, though being so small, you will probably want to avoid large zooms!
One of the biggest advantages of the GF7 is its electronic shutter. Because it is completely silent, you can maintain a discreet profile while doing street photography or at events where the sound of the shutter might disturb those around you. It is one of the only cameras on this list to have this feature.
Other interesting features include 1080p Full HD video capabilities, continuous shooting up to 5.8fps, a tilting touchscreen that flips up 180 degrees, and WiFi connectivity.
Check price of Panasonic Lumix GF7 on eBay
---
6. Sony a5000 with 16-50mm kit lens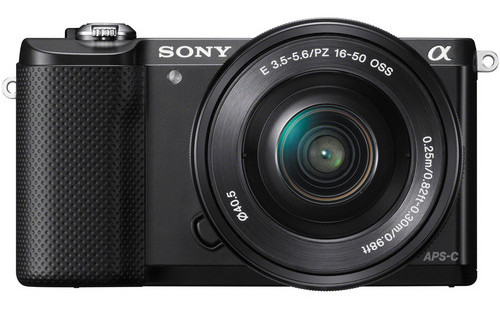 Halfway down the list, we return to another Sony model: the entry-level a5000. There is quite a lot to like about this camera but the show-stopper is its APS-C sized sensor with 20MP of resolution and excellent dynamic range, making it a great choice for landscapes or any other genre where lots of detail is required.
Also present are Full HD 1080p video capabilities, an LCD monitor that tilts up 180 degrees, and WiFi capabilities.
What will deter users is the lack of built-in viewfinder and the maximum continuous shooting speed of just 3.5fps, which is far below the average speed on this list. As is the case with the Sony Nex 6, the lens selection for this camera is also more limited compared to other brands.
Check price of Sony a5000 on eBay / B&H Photo
---
7. Fujifilm X-M1 with 16-50mm kit lens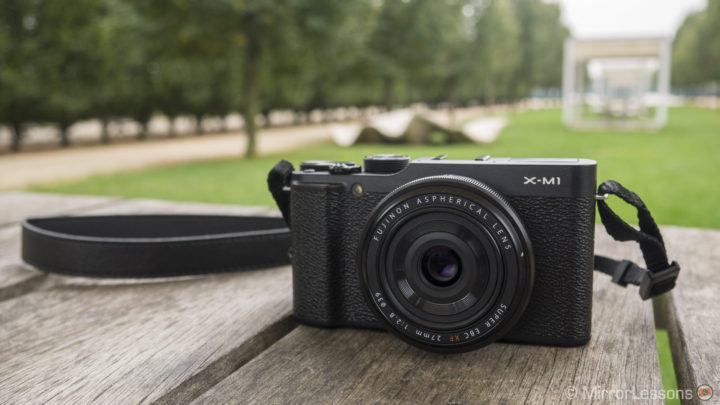 Those who crave beautiful colours from their out-of-camera JPGs will certainly want to check out the three-year-old Fujifilm X-M1. Despite being an entry-level X series camera, it incorporates Fujifilm's beloved Film Simulation Modes which give a film-like appearance to your images and can also be found on Fujifilm's more advanced models.
Everything else about the camera is fairly similar to the competition. It includes a 16MP APS-C sized X-Trans sensor, a tilting LCD monitor, 5.6fps continuous shooting capabilities, WiFi connectivity, and 1080p Full HD video. However, it lacks a few desirable features such as touch sensitivity for the LCD screen and a built-in viewfinder. The autofocus is probably the slowest of all the cameras on this list.
Check price of Fujifilm X-M1 on eBay
---
8. Nikon 1 J5 with 10-30mm kit lens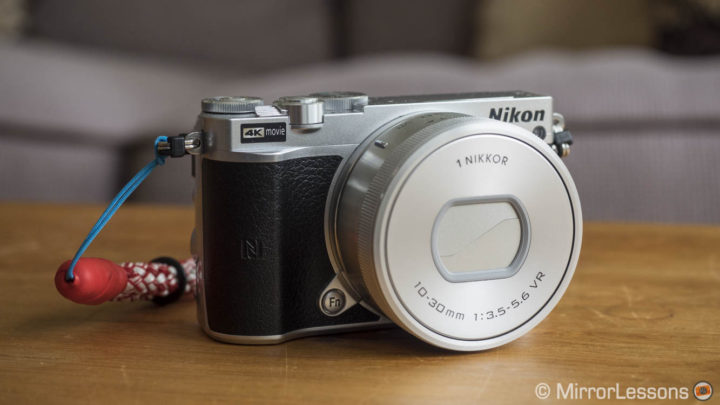 The Nikon 1 J5 is quite a different beast compared to the other models on this list. To make up for its small 20MP 1-inch sensor, its continuous shooting speeds surpass those of all the other models you see here, as well as those of most high-end mirrorless models! In continuous AF, you can shoot up to 20fps and this goes up to 60fps in S-AF.
It also comes with 120fps slow motion video at 720p, as well as a very accurate hybrid autofocus system which, when paired with the fast burst speeds, can deliver excellent results.
Nikon 1 as a camera system is extremely compact, making it a great option for travel photography, but like the Sony APS-C range, there currently aren't many native lenses available and this is unlikely to change given that Nikon doesn't appear very invested in the system.
Check price of Nikon 1 J5 on eBay / B&H Photo
---
9. Canon EOS M10 with 15-45mm kit lens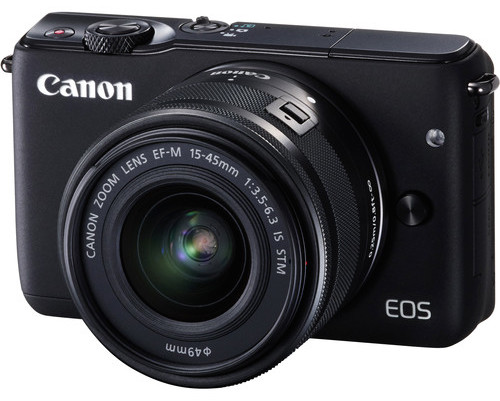 The Canon EOS M system is one of the most underdeveloped on this list with only five cameras and seven lenses, but the EOS M10 is still worth considering thanks to its interesting specifications and competitive price point.
In addition to its 18MP APS-C sized sensor, it incorporates a tilting touchscreen, Full HD video at 30fps, built-in WiFi and NFC, and 4.6fps continuous shooting. The autofocus is a little sluggish compared to some other models on this list and it lacks a built-in viewfinder and hot shoe but the interface is user-friendly and it is compact enough to carry around wherever you go.
Of interest to current Canon DSLR users is the fact that you can adapt any EF lens to the EOS M10 via the dedicated EF-EOS M mount adapter but the autofocus will be slower and the camera might be uncomfortable to hold with larger and heavier lenses.
Check price of Canon EOS M10 on eBay / B&H Photo
---
10. Samsung NX3000 with 20-50mm kit lens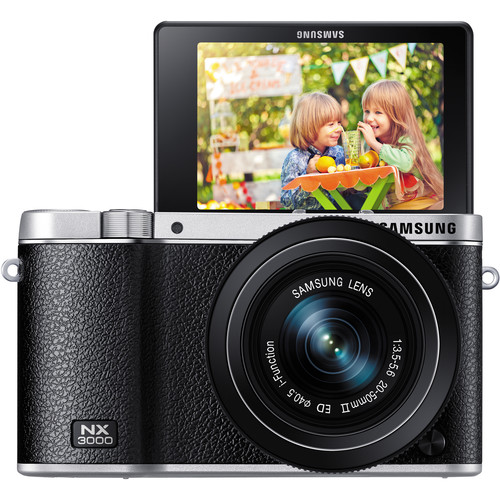 I've placed the Samsung NX3000 at this end of this list, not because it isn't a great camera but because Samsung has pulled out of the camera industry and is, as such, no longer producing new cameras or lenses for the NX system.
On the flip side, however, most Samsung cameras can now be found at ridiculously low prices. In the case of the NX3000, you get a 20MP APS-C sized sensor, a 3-inch tilting monitor, Full HD video at 30fps, WiFi and NFC connectivity and 5fps continuous shooting, all at less than $300. If you are happy with the current lens line-up, which consists of 28 different primes and zooms, then the NX3000 could be just the deal you were looking for.